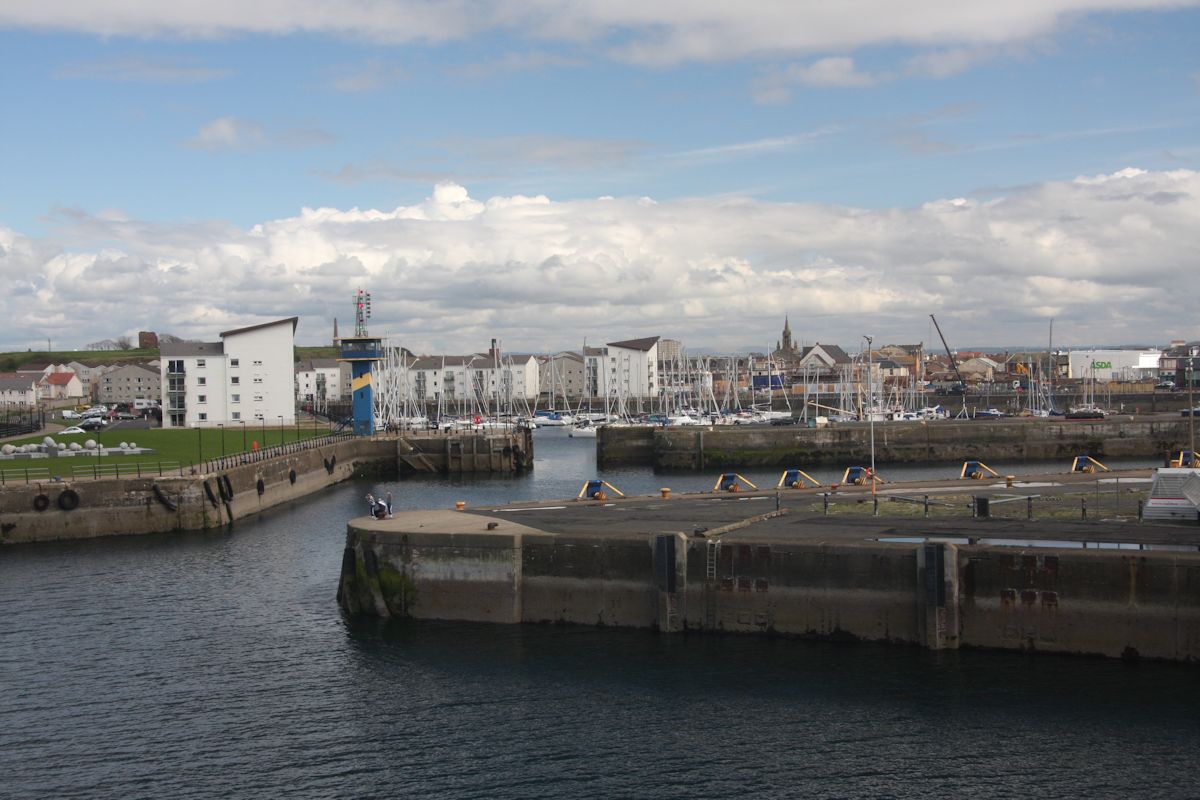 Image ©
Bob Jones
Ardrossan
Latitude: 55° 38'N
Longitude: 04° 48'W
Country: Scotland
Ownership: Clydeport Ltd
Type: Private
Usage: Commercial, Ferry Terminal
Address: The Harbour, Ardrossan, Ayrshire, KA22 8BZ
Telephone no: 01294 469211
Website: www.shipsofcalmac.co.uk/t...rminals=42

About Ardrossan
Towards the end of the 18th century, the 12th Earl of Eglington proposed a seaport be built at Ardrossan plus a canal to connect the town with Glasgow. Thomas Telford was commissioned to survey Ardrossan Bay, in 1805 an Act of Parliament was passed authorising the work and on 31 June 1806, the foundation stone was laid.
The harbour was not completed until 1864. Work on the canal was eventually abandoned because of the competition from the railways, although part of the canal workings were used for the rail link for the Glasgow and South Western Railway.
In 1834, steamer services to the Isle of Arran started, in 1884 a service to Belfast was started and in 1892, the Isle of Man was added as a destination. Cargo exports were mainly coal and iron ore from the local mines and iron works with destinations of America, France and Mediterranean ports as well as Belfast, Dublin and Liverpool.
By 1886, the harbour could not cope with the usage it was having and the Ardrossan Harbour Company was formed and in April 1892 the Eglington Dock was opened. The new dock was well equipment with hosts and cranes for moving cargo. A 1320 feet breakwater was also built at the same time.
Shipbuilding was vital to the growth and prosperity of Ardrossan. By the second quarter of the 1800's there were numerous small yards in the town. On occasions Ardrossan launched what were some of the largest wooden ships built in Scotland at the time. As business boomed, large companies such as the Ardrossan Dry Dock & Shipbuilding were formed. But by the 1950's the competition from foreign yards led to a decline in the town's shipbuilding industry.
Today the deep water harbour continues to offer full port facilities and operates a car ferry to Brodick on Arran.
---
Return to Area Map