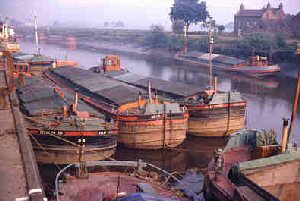 Image ©
Canal Junction
Selby
Latitude: 53° 47'N
Longitude: 01° 05'W
Country: England
Ownership: General Freight Co. Ltd
Type: Private
Usage: Commercial
Address: Ousegate, Selby, YO8 8BL
Telephone no: 01757 706221

About Selby
Selby stands on the River Ouse at a point half way between York and the River Humber. It is believed to have been founded by marauding Danes who sailed up the River Ouse and pillaged and burnt riverside settlements, but there are no written records of the town before the coming of the Normans. It is traditionally said to be the birth place of Henry I, the youngest son of William the Conqueror.
General Freight Co. Ltd have operated at Selby, one of the U.K.'s most inland ports, for over thirty years and during this time have developed a well equipped wharfage, storage and distribution facility for import and export to and from Scandinavia, Europe and as far afield as West Africa. The deep Yorkshire location is ideal for access to the U.K.'s motorway network, M62 and A1.
Capable of accommodating vessels, subject to tide, in excess of 1500 DWCC, the port of Selby can handle cargoes whether bulk, palletised loose bagged, unit load, packaged or bulk liquids.
---
Return to Area Map