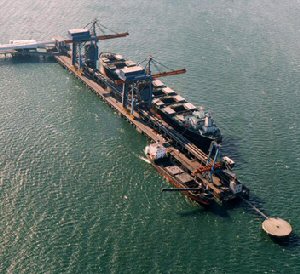 Hunterston
Latitude: 55° 43'N
Longitude: 04° 52'W
Country: Scotland
Ownership: Clydeport Ltd
Type: Private
Usage: Commercial
Contact name: John McGuigan Port Manager
Address: Hunterston Terminal, Fairlie, Largs, Ayrshire KA29 0AZ

About Hunterston
Hunterston: This deepwater terminal has supported Clydeport's growth in recent years. The port focuses primarily on coal imports and, with 10% of the market, is now the UK's largest in volume terms. Hunterston has seen coal tonnage rise from 1.1m in 1996 to 4.9m in 2001 and handles over 50% of the group's imports.
Clydeport purchased the port of Hunterston in 1993 and floated on the stock exchange in 1994.
This bulk terminal deepwater port is one of the finest facilities in Western Europe. Located on the west coast of Scotland, with a jetty head that extends into 26m of water, the outer berth can discharge the largest cape size vessels afloat.
At the inner berth vessels up to 95,000 dwt can be accommodated and can be automatically outloaded or transhipped to the UK, Irish and European markets. Discharging rates at up to 50,000 tonnes of coal SHINC are now the fastest in the UK, ensuring efficient, cost effective movement of materials.
As well as transhipment, a dedicated twin head automated rail loading station offers economic and environmentally friendly transportation for imported product. The site has a lower rail vehicle loading area where haulage has easy access to the national motorway network.
The stockyard extends to 120 acres and is operated by 3 stacker/reclaimers, coal is stacked at a rate of 3,000tph and reclaimed at 2,000 tph.
The terminal operates 24 hours per day, 7 days per week.
---
Return to Area Map