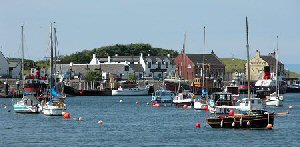 Image ©
Undiscovered Scotland
Irvine
Latitude: 55° 36'N
Longitude: 04° 41'W
Country: Scotland
Ownership: Irvine Harbour Co.
Type: Private
Contact name: Harbour Master
Telephone no: 01294 278132
Website: www.boatjumbleassociation...tions.html

About Irvine
Originally a harbour town, Irvine received its charter in 1308 by Robert I. The royal burgh of Irvine functioned as chief port for Glasgow until the 18th Century when the River Clyde was deepended and Port Glasgow developed. It exported coal and chemicals, and its industries included shipbuilding, engineering, foundries, sawmills and chemicals.
The Scottish Maritime Museum is situated in Irvine.
Nowadays the port is used mainly by leisure craft. A two-level visitors' wharf is located approximately 90 metres beyond the bridge on the starboard side. The Harbour Office is directly opposite. Depth alongside the wharf is 2.2 metres at MLWS; the bottom is soft mud. The trots further up river are used by local boats, and are not normally available to visitors. Arrangements can be made to use the slip, situated beyond the Maritime Museum pontoon, by contacting the Harbour Office.
---
Return to Area Map