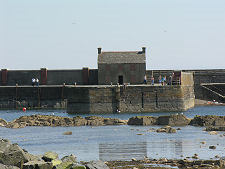 Image ©
Undiscovered Scotland
Saltcoats
Latitude: 55° 38'N
Longitude: 04° 46'W
Country: Scotland
Type: Unknown
Usage: Leisure

About Saltcoats
Saltcoats lies adjacent to Ardrossan on the Firth of Clyde. Saltcoats derives its name from the ancient practice of boiling sea water to extract salt, which its habitants once carried out in their beachside houses known as "salt cots". Saltcoats grew and developed around its small harbour, built in 1685, which was used to facilitate the exportation of coal from the Stevenston coalfield to Ireland. Throughout the years the people of Saltcoats earned their living from a variety of activities such as salt panning, fishing, ship building and weaving. Saltcoats had always been a great favourite as a holiday destination, being only approximately 40 minutes away from Glasgow by train.
A railway line runs parallel to the course of the first commercial canal in Scotland. It was opened in 1772 to carry coal from the Stevenston Coal Pits to Saltcoats to avoid the tolls on the turnpike road.
The original quay dated from 1686 and was built for the coal and salt industries. It was badly damaged by a storm in January 1739 but the record says that it was rebuilt in two weeks by ten masons who were paid ten pence (4p) and a whisky per day. It was enlarged in 1797 and bought by the Town Council in 1914.
The present Saltcoats Harbour was built by Robert Cunninghame primarily for the export of his Stevenston coal to Ireland. The outer pier was added around 1800; at that time Saltcoats was a busy port with both local and foreign shipping. Prior to this in 1772 a two mile canal was built from the Stevenston coalfields to facilitate the coal's exportation.
---
Return to Area Map