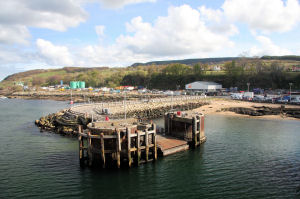 Image ©
Bob Jones
Brodick (Ferry Terminal)
Latitude: 55° 34'N
Longitude: 05° 08'W
Country: Scotland
Ownership: Caledonian Maritime Assets Ltd (CMal)
Type: Private
Usage: Ferry Terminal
Website: www.shipsofcalmac.co.uk/t...rminals=41

About Brodick (Ferry Terminal)
Brodick is the largest settlement on Arran.
In 1839 the Ardrossan Steamboat Company built a wooden paddle steamer called the Isle of Arran and offered a service between Ardrossan and the rather primitive piers then in existence at Lamlash and Brodick.
In the heyday of the Clyde steamers you could travel by sea to Arran from any of a large number of Clyde, Ayrshire, Kintyre and Bute ports; to destinations on Arran including Brodick. Times have changed. Now there is a year-round link between Ardrossan on the Ayrshire coast, and Brodick on Arran, provided by one of Caledonian MacBrayne's largest vessels, the Caledonian Isles.
Seasonal ferries run to Rothesay on the Isle of Bute.
---
Return to Area Map