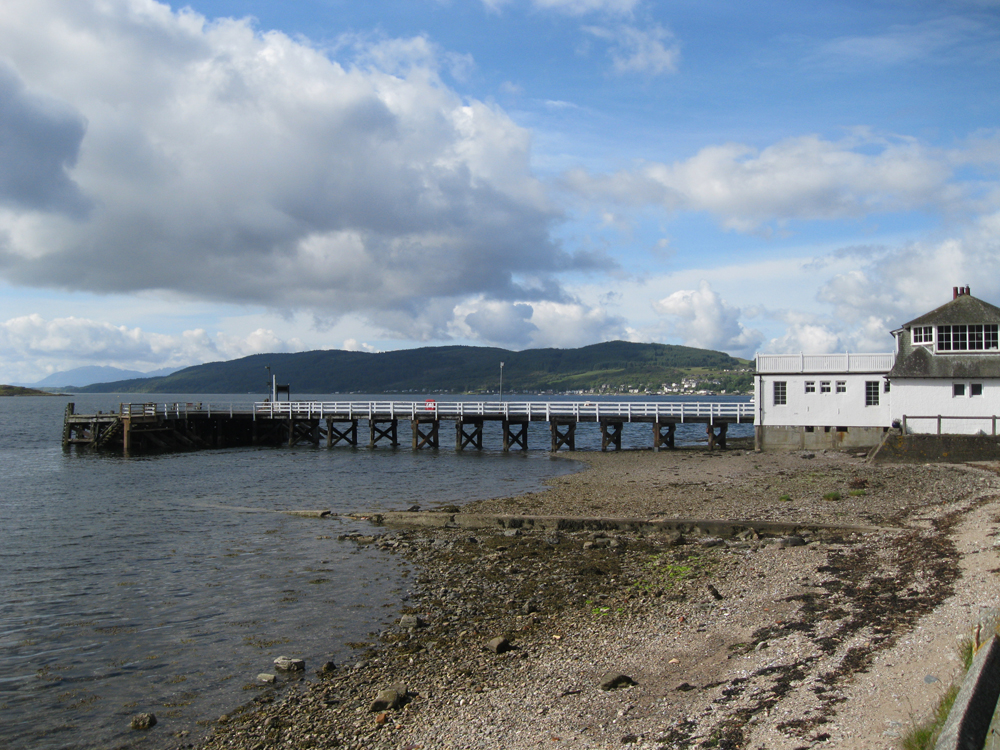 Image ©
Bob Jones
Tighnabruaich
Latitude: 55° 54'N
Longitude: 05° 13'W
Country: Scotland
Ownership: Argyll and Bute Council
Type: Municipal
Usage: Leisure
Contact name: Alan Millar, Secretary, Tighnabruaich Pier Association
Telephone no: 01700 811728
E-mail: amillar@tighnabruaichpierassociation.co.uk
Website: www.tighnabruaichpierassociation.co.uk

About Tighnabruaich
Tighnabruaich Pier, one of the few surviving working wooden piers in the Firth of Clyde to be used for its original purpose, is a Listed Building set in a National Scenic Area. However, when exactly it was built is not known. It is described in various old documents as Tighnabruaich Wharf. Also, for much of the 19th century there was another village pier at Portdrishaig which may well have been used by the Royal Navy to service warships laid up in the Kyles after the Crimean War. It seems that it was the Castle Steamship Company, a forerunner of MacBrayne, which built a pier in the 1830s on the site of the present one. There was major reconstruction in 1885 by the Tighnabruaich Estate, its owner from 1840 until it was sold to the Pier master, George Olding, in 1950. Since 1965 it has been the responsibility of the Local Authority.
Until the opening in 1969 of the "New Road" from Ormidale into the village Tighnabruaich depended almost entirely on the sea route. The pattern of passenger services on the Clyde evolved from the Comet of 1812 and the early steamers in the first part of the 19th century. Caledonian MacBraynes is today the successor to various separate companies: The North British Railway (latterly LNER) steamers from Craigendoran, the Glasgow and South Western Railway Company boats from Princes Pier, Greenock and Fairlie, the Caledonian Steam Packet Company from Gourock and Wemyss Bay. There were also Williamson-Buchanan steamers and those of other smaller operators. Cargo services ran regularly and separately from the many "puffers" which brought goods to small communities. In addition there was a series of "cruises" round Bute, to Arran and the length of Loch Fyne.
Most of the well known and best loved river steamers called at Tighnabruaich including the famous
Columba
, and the historic
King Edward
until today when only the privately owned
Waverley
continues the saga of Clyde Steamers in her short summer season when she visits twice a week for a couple of months.
There are now efforts to conserve and develop it, the product of a partnership between the Tighnabruaich Pier Association and Argyll & Bute Council. Following vigorous local fund raising in 2000 and 2001 and with the co-operation of Waverley Excursions, which relies on the pier's continuance for summer visits by PS Waverley, essential maintenance has begun with the immediate emphasis on preserving the historic entrance hall.
Text courtesy of Tighnabruaich Pier Association
---
Return to Area Map