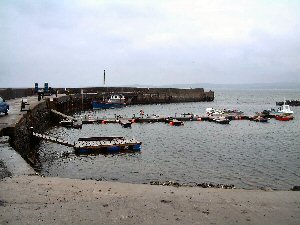 Image ©
Bob Jones
Bowmore
Latitude: 55° 44'N
Longitude: 06° 18'W
Country: Scotland
Type: Unknown
Usage: Leisure, Fishing

About Bowmore
Loch Indaal is shallow and Bowmore's fishing harbour has never been accessible to large vessels. Until the harbour silted up in the 1920s, steamers from Glasgow loaded and unloaded cargo here using lighters.
In the second world war Loch Indaal's shallowness was less important than its shelter for the Royal Air Force, who operated flying boats from Bowmore.
These days the harbour, with its odd surround on two sides of low level rocks, is used primarily by pleasure craft.
---
Return to Area Map