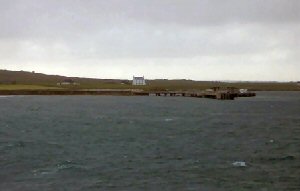 Image ©
Ships of Calmac
Scarinish (Tiree)
Latitude: 56° 30'N
Longitude: 06° 48'W
Country: Scotland
Ownership: Caledonian Maritime Assets Ltd (CMal)
Type: Private
Usage: Leisure, Fishing, Ferry Terminal
Website: www.shipsofcalmac.co.uk/t...rminals=21

About Scarinish (Tiree)
Scarinish harbour is the old harbour of Tiree. It was used many years ago by the Tiree smacks which carried coal, peat, etc., bringing in essential goods to the island. Some of the older residents remember when the harbour was so full of ships that you could cross over it by walking from smack to smack. It is a small tidal harbour which today is used mainly by sailing boats.
The township boasts two piers, the more modern being owned and maintained by Calmac and the berth for the ferry which brings passengers, vehicles and freight to the island on an almost daily basis.
The older pier, built in 1771, is still used by fishermen, but was once the main port of departure for small, open boats called sgoithean which plied between the Ross of Mull and Coll for the peat cutting.
---
Return to Area Map