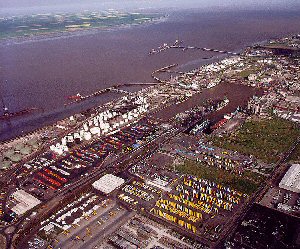 Immingham
Latitude: 53° 37'N
Longitude: 00° 11'W
Country: England
Ownership: Associated British Ports
Type: Private
Usage: Commercial
Contact name: Nick Palmer, Port Director
Address: Dock Office, Immingham, DN40 2LZ
Telephone no: 01472 359181
E-mail: npalmer@abports.co.uk
Website: www.abports.co.uk/immingham

About Immingham
As both a thriving port and a small town, Immingham has its own character and community. It also has a long history - a monument commemorates the Pilgrim Fathers who sailed from Immingham Creek in 1609.
Immingham is one of Britain's busiest and fastest growing ports. The ships and industry in Immingham range from the petro-chemical industry to Ro-Ro ferries. The combination of a strategic location on the south bank of the Humber – the UK's busiest commercial estuary – with extensive deep-water facilities and high-quality service, makes Immingham a market leader in the UK, and first choice for a wide range of customers and traffics.
Humber International Terminal is one of the most important port developments in the country in recent years. The terminal enables the port to handle post Immimax size vessels, allowing Immingham to move into different markets, and customers can capitalise on the natural logistical advantages of the port's location.
The terminal is a major trade gateway to world markets, designed to meet the needs of the international shipping industry in the new millennium. Strategically located to facilitate UK and north European cargo distribution, with easy access to a wide hinterland and to major industrial and agricultural centres, Humber International Terminal offers a fully integrated logistics solution for all transport and distribution needs.
---
Return to Area Map