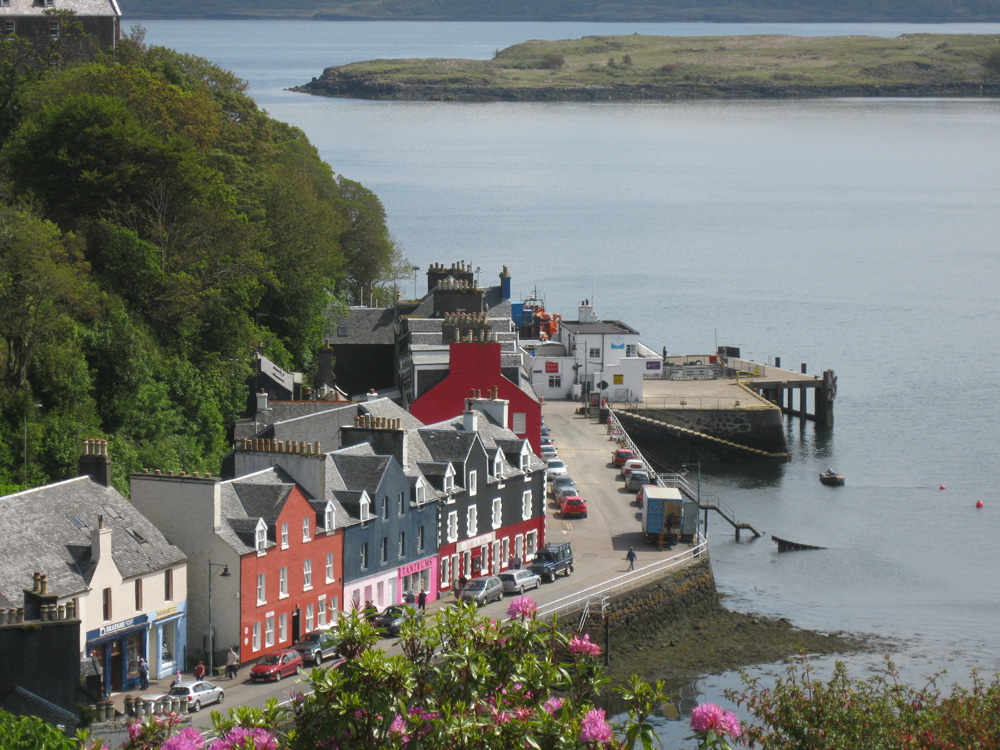 Image ©
Bob Jones
Tobermory
Latitude: 56° 38'N
Longitude: 06° 05'W
Country: Scotland
Ownership: Tobermory Harbour Association
Type: Private
Usage: Leisure, Fishing, Commercial, Ferry Terminal
Contact name: Jimmy Henderson, Port Manager
Address: Taigh Solais, Ledaig, Tobermory, Isle of Mull, PA75 6NR
Telephone no: 01688 302876
E-mail: admin@tobermoryharbour.co.uk
Website: www.tobermoryharbour.co.uk

About Tobermory
Tobermory was built as a fishing port in the late 18th century and is now the main village on Mull. It is a picture-postcard of a place with the brightly painted buildings along the pier and the high wooded hills surrounding the bay. The village has a good variety of shops, hotels, and other accommodation as well as being the administrative centre for the island. The harbour is always busy with fishing boats, yachts and the ferry to and from Kilchoan during the summer months.
About 400 yards out from the New (MacBrayne's) Pier at Tobermory, under 60ft of water and deeply embedded in the silt lies the Spanish galleon blown up in 1588,or what is left after the subsequent attentions of nearly forty expeditions vainly seeking the great treasure said to have been on board, including the pay chests of the Spanish army that failed to invade England. Independent Scotland was of course a neutral country. The great ship was in fact the San Juan de Sicilia, a large merchant ship hired as an armed unit of the great Armada fleet.
Tobermory has always been a most convenient harbour for yachtsmen: a place to wait for a fair wind for Ardnamurchan, within easy reach of stores and hostelries and a very welcome haven for the southbound yacht that has just rounded that intimidating headland.
---
Return to Area Map