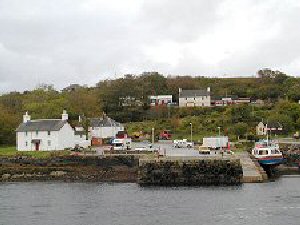 Image ©
Undiscovered Scotland
Lochaline
Latitude: 56° 32'N
Longitude: 05° 46'W
Country: Scotland
Ownership: Caledonian Maritime Assets Ltd (CMal)
Type: Private
Usage: Leisure, Fishing, Commercial, Ferry Terminal
Telephone no: 01475 650100
Website: www.shipsofcalmac.co.uk/t...rminals=24

About Lochaline
There are two piers at Lochaline. A ferry service runs between the new pier at Lochaline and Fishnish (Mull). The ferry is the MV Loch Fyne, built in Port Glasgow in 1991. It can accommodate 36 cars and 150 passengers, and while it has passenger facilities including a lounge, the crossing is so short few passengers make use of them. It was perhaps better known as one of the ferries displaced by the building of the Skye Bridge.
Diving is popular sport from the old pier and a dive centre has been established there. The water is extemely deep, the piles of the pier only extending a few feet into the water. The pier is in fact cantilevered out from the shore. About five metres from the end of the pier there is a sheer drop to 90 metres depth.
Due to the extreme depth, Lochaline Old Pier is one of the few places in Scotland where skate can be fished directly from the pier.
---
Return to Area Map