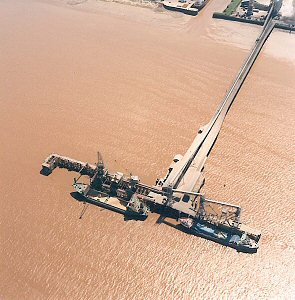 Image ©
New Holland Bulk Services
New Holland (Old Ferry Terminal)
Latitude: 53° 42'N
Longitude: 00° 19'W
Country: England
Ownership: New Holland Bulk Services Ltd
Type: Private
Usage: Commercial
Contact name: James Lyne
Address: Old Ferry Terminal, New Holland, North Linconshire, DN19 7SD
Telephone no: 01469 531102
E-mail: james.lyne@newhollandbulkservices.co.uk
Website: www.newhollandbulkservices.co.uk

About New Holland (Old Ferry Terminal)
Before 1803 there wasn't even a New Holland, but just the creek somewhat opposite Hull on the south bank of the Humber. A small ferry service started from the creek in 1825, in fact a front for smuggling goods, especially gin, and it was Hollands gin that gave impetus to the naming of the place.
After the opening of the Humber Bridge in June 1981 the ferry was decommissioned. New Holland Pier was taken over by New Holland Bulk Services, who started a grain and animal food import and export in 1984.
New Holland Bulk Services is owned by
HES Beheer
, a Dutch holding company for providers of logistical services in ports.
---
Return to Area Map