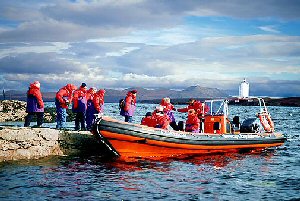 Image ©
Seascape Expeditions
Laide
Latitude: 57° 51'N
Longitude: 05° 32'W
Country: Scotland
Ownership: Highland Council
Type: Municipal
Usage: Leisure, Fishing
Contact name: Mr Neil Simpson, Marine Superintendent
Telephone no: 01571 844806

About Laide
Laide jetty was built in the late 19th century, and is currently owned and managed by the Highland Council. It provides the only public access to the sea in Gruinard Bay. At present, local boats moor at the jetty in the summer for sea angling trips and leisure use, and as many as twenty other local boats use the facility from time to time. As many as 100 visitors' boats are launched at the jetty each year.
However, the jetty is in a poor state of repair and cannot be used at low tide. The original structure was built of stone, and has since been in-filled and covered with concrete. It is undermined in places and major repairs are needed. In addition, the jetty is rather narrow for present-day requirements and lacks a suitable turning area.
Due to the poor state of Laide Jetty, a users' association has recently been formed to carry out repairs and improvements to the facility. They have discussed with the Council the possibility of purchasing the jetty for the community, or arranging a long lease.
---
Return to Area Map