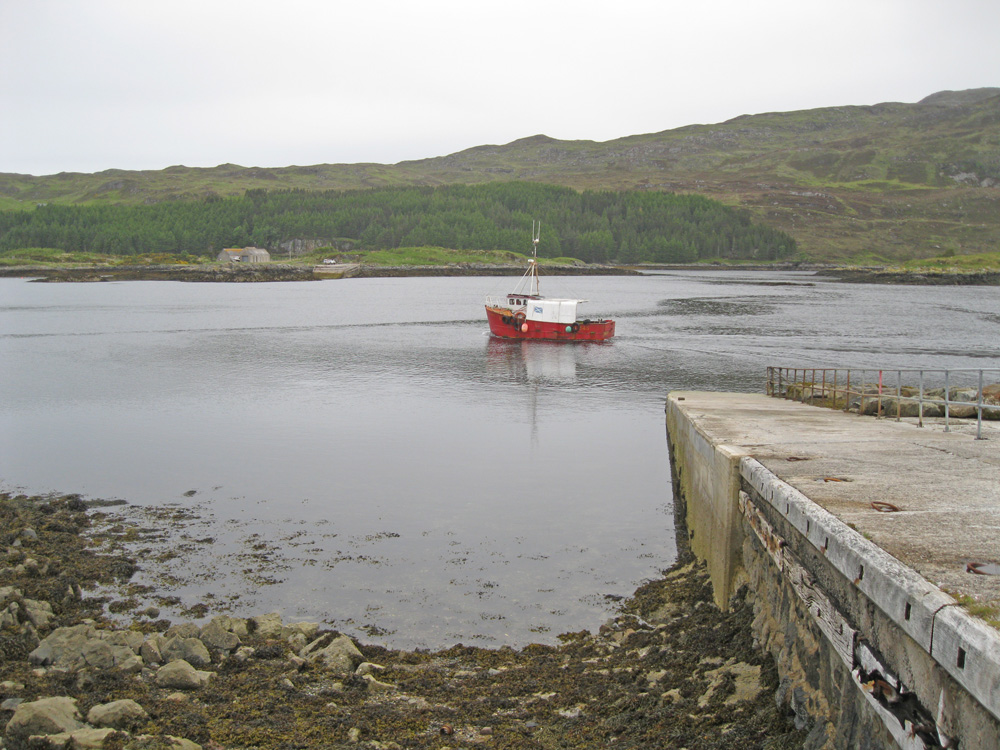 Image ©
Bob Jones
Kylesku
Latitude: 58° 15'N
Longitude: 05° 01'W
Country: Scotland
Ownership: Highland Council
Type: Municipal
Usage: Leisure, Fishing
Contact name: Mr Neil Simpson, Marine Superintendent
Telephone no: 01571 844806

About Kylesku
A passenger ferry (a rowing boat) was introduced here in the early 1800s. Commercial traffic mainly comprised cattle on their way to central Scotland, and they had to swim across. Over the years various ferries came and went, and small car-carrying ferries first appeared between the wars. It was only in 1975 that the
Maid of Glencoul
became the first vessel capable of carrying fully loaded commercial vehicles. The Kylesku Ferry was unusual in being, for much of its life, free. The ferry closed forever in 1984, when the Kylesku Bridge was bulit. The
Maid of Glencoul
went on to be the relief vessel on the Corran Ferry.
Kylesku is also home to a jetty for locally-based fishing boats, and forlorn and grounded on the opposite side of the bay lies the
Maid of Kylesku
. This two-car ferry was built for the Kylesku crossing in the early 1950s, where it served until replaced by the
Queen of Kylesku
in 1967. The
Maid of Kylesku
was retained as a relief vessel, but when the Kylesku Bridge was completed in 1984, it was no longer needed and abandoned where you can still see her today.
Kylesku is the departure point for boat trips up Loch Glencoul to see Eas a'Chual Aluinn - the highest waterfall in Britain at 200m (650 feet). Bookings can be made
here
, or by phone on 01971 502345.
The slipway was refurbished by North West Marine in 2005 at a cost of £82,000.
Just around the corner from the slipway is the Highland Council's fishing jetty, used regularly by local fishermen. See 'More Photos' for a picture.
---
Return to Area Map