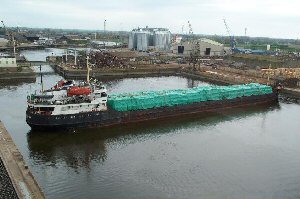 Image ©
Bob Jones
King's Lynn
Latitude: 52° 46'N
Longitude: 00° 23'E
Country: England
Ownership: Associated British Ports
Type: Private
Usage: Commercial
Contact name: Mr Alastair MacFarlane, Port Manager
Address: St Ann's Fort, King's Lynn, Norfolk, PE30 2EU
Telephone no: 01553 691555 (ABP) or 01553 773411 (Authority)
E-mail: amacfarlane@abports.co.uk
Website: www.abports.co.uk/custinf.../kings.htm

About King's Lynn
Kingís Lynn offers a strategic location on the Wash, in the middle of the UKís east coast. It is a major centre for agribulks, forest products and steel, with a good choice of berths and facilities.
The port is well equipped with high-capacity mobile and rail-mounted cranes backed by a fleet of heavy-duty and medium-duty fork-lifts, tugmasters and mafi-trailers plus a 35-tonne capacity container-handling truck. Bulk cargoes are primarily handled by two Liebherr hydraulic grabbing mobile cranes supplemented by a 10-tonne capacity grabbing/conventional crane and the portís mobile harbour 35-tonne capacity appliance. Cargo-handling for steel, timber and other conventional lift work is undertaken by the harbour mobile crane and quay cranes ranging from 7.5 tonnes to 25 tonnes.
The port can accommodate specialist heavy-lift imports and exports by conventional lift at Riverside Quay. Recent work has included large machinery for nearby power stations.
The
King's Lynn Conservancy Board
is the statutory Port, Harbour and Pilotage Authority for the port. The Board is a self-financing, non profit-making organisation, responsible for navigational marks and pilotage.
---
Return to Area Map