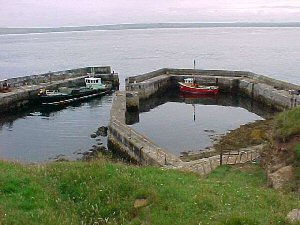 Image ©
Bob Jones
Stroma
Latitude: 58° 40'N
Longitude: 03° 07'W
Country: Scotland
Ownership: Highland Council
Type: Municipal
Usage: Fishing, Commercial
Contact name: Mr Neil Simpson, Marine Superintendent
Telephone no: 01571 844806

About Stroma
The Island of Stroma lies in the Pentland Firth one and a half miles North of Huna.
There was no fuel on Stroma, and the people had a licence to cut peat in John O' Groats and Gills. This would be transported in carts to a boat which took it to the island. After the first world war a small coastal trader began sending coal boats, which carried enough coal for the whole year, to the island.
Although it was once a busy island with a population of 365 at its height, it is now deserted. The last family left in 1962.
After over six years of argument and counter-argument between the islanders, the local council and The Scottish Home Department, Stroma harbour was finally completed in 1956 at a cost of £30,000.
As James Miller wrote in "Stroma",
"It was too late. Cynics argued that the wages from the harbour building enabled some families to find new homes on the mainland. It was more likely that mainland wages, particularly those on offer from Dounreay, proved too strong to resist."
One year after the harbour was completed, only sixteen souls, which included the lighthouse staff, remained on Stroma.
William Simpson and his father James (now retired) own Stroma and most weekends run trips out to the island for people who would like to view the history, the seals and the bird-life.
---
Return to Area Map