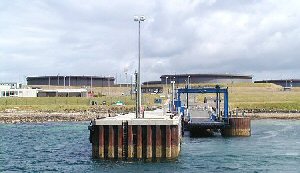 Image ©
Undiscovered Scotland
Flotta - Gibraltar Pier
Latitude: 58° 50'N
Longitude: 03° 08'W
Country: Scotland
Ownership: Orkney Islands Council
Type: Municipal
Usage: Commercial, Ferry Terminal
Contact name: Capt. Nigel Mills, Director of Harbours
Address: Harbour Authority Building, Scapa, Orkney, KW15 1SD
Telephone no: 01856 873636
E-mail: harbours@orkney.gov.uk
Website: www.orkneyharbours.com/gi...r_pier.asp

About Flotta - Gibraltar Pier
The Flotta Oil Terminal started work in December 1976, and since then about 10% of the UK's oil output has come ashore here to be pumped into tankers for transport across the world.
The 223ft high gas flare is the most prominent feature on Flotta today, and a large part of the northern side of the island is taken up by the oil terminal. However, because it is confined to one island, the Flotta Terminal has a limited environmental impact on Orkney as a whole, while still providing several hundred jobs. Many of the workers commute from the Mainland on the fast launches operated by the terminal operators.
Flotta is also served by the car ferry service between Houton on Mainland and Lyness on Hoy, so is one of the most accessible of the smaller islands.
---
Return to Area Map