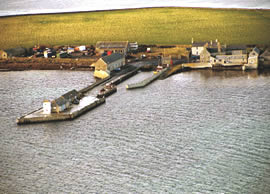 Image ©
Orkney Islands Council
Kettletoft (Sanday)
Latitude: 59° 14'N
Longitude: 02° 36'W
Country: Scotland
Ownership: Orkney Islands Council
Type: Municipal
Usage: Leisure, Fishing
Contact name: Capt. Nigel Mills, Director of Harbours
Address: Harbour Authority Building, Scapa, Orkney, KW15 1SD
Telephone no: 01856 873636
E-mail: harbours@orkney.gov.uk
Website: www.orkneyharbours.com/ke...t_pier.asp

About Kettletoft (Sanday)
Kettletoft grew around its fishing industry, though it never became as significant a port as Whitehall on Stronsay, which lies five miles due south across the Sanday Sound. During the herring boom of the late 1800s and early 1900s Kettletoft was a hive of activity with boats landing their catch; herring girls gutting and salting the fish, and vessels carrying the processed product off to distant markets.
The village was also important as the main point of entry to, and exit from, Sanday. The steamers that established the routes to the north isles, including Kettletoft, in the 1800s and early 1900s were replaced by the MV
Orcadia
from 1961 to 1990.
She in turn was replaced by the new generation of car ferries which operated from a roll-on roll-off pier at Loth near Sour Ness at the southern tip of Sanday in the early 1990s: and Kettletoft's harbour became a less busy place overnight.
---
Return to Area Map