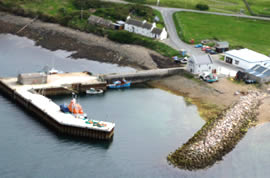 Image ©
Orkney Islands Council
Longhope (Hoy)
Latitude: 58° 48'N
Longitude: 03° 12'W
Country: Scotland
Ownership: Orkney Islands Council
Type: Municipal
Usage: Leisure, Fishing, Ferry Terminal
Contact name: Capt. Nigel Mills, Director of Harbours
Address: Harbour Authority Building, Scapa, Orkney, KW15 1SD
Telephone no: 01856 873636
E-mail: harbours@orkney.gov.uk
Website: www.orkneyharbours.com/lo...e_pier.asp

About Longhope (Hoy)
What's normally thought of as Hoy's largest settlement, Longhope, isn't really on Hoy at all. It sits on the north shore of South Walls, which was a separate tidal island until connected to Hoy by a short causeway called The Ayre, built during World War II.
The inlet of Longhope became an important gathering place for convoys during the Napoleonic Wars before they set off around the north and west coast of the UK to avoid French warships in the North Sea and Channel. It was protected from French and US privateers by the guns of the Hackness Battery and the Martello Towers placed either side of the mouth of the inlet.
West of the Ayre a side road leads to the old Longhope Lifeboat Station, now a museum. Nearby is the Kirkhope burial ground, with its bronze statue of a lifeboatman that serves as a memorial to the crew of the Longhope Lifeboat, who were lost at sea on 17 March 1969.
---
Return to Area Map