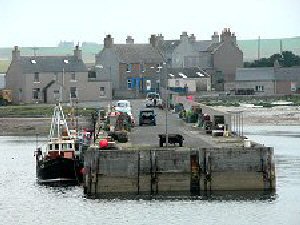 Image ©
Undiscovered Scotland
Stronsay West Pier
Latitude: 59° 09'N
Longitude: 02° 36'W
Country: Scotland
Ownership: Orkney Islands Council
Type: Municipal
Usage: Fishing
Contact name: Capt. Nigel Mills, Director of Harbours
Address: Harbour Authority Building, Scapa, Orkney, KW15 1SD
Telephone no: 01856 873636
E-mail: harbours@orkney.gov.uk
Website: www.orkneyharbours.com/west_pier.asp

About Stronsay West Pier
This is the old pier in the village of Whitehall, to the west of the newer ferry terminal.
Each July and August during the height of the herring boom from the 1880s to the First World War, the population of Stronsay, normally around 1200 at the time, would rise to over 5000 as fishing fleets, fish gutters and others descended on what at the time was by far Orkney's most important fishing port.
Herring catches started to decline in the 1920s, and in 1937 the fish arrived in Orkney on their annual migration six weeks late, after the fishermen needed to catch them and the processors required to gut and salt them had already moved south to eastern Scotland and England. 1939 saw another disaster for the fishery and, perhaps as a symbolic mark of the end of an era, the Stronsay Hotel burned down in the same year. The herring boom was over.
Nowadays the pier is used by the occasional fishing vessel.
---
Return to Area Map