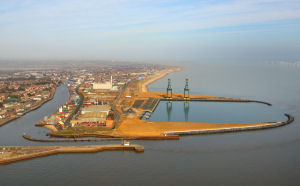 Image ©
EastPort UK
Great Yarmouth
Latitude: 52° 35'N
Longitude: 01° 45'E
Country: England
Ownership: Great Yarmouth Port Company Ltd
Type: Private
Usage: Leisure, Fishing, Commercial, Ferry Terminal
Contact name: Mr Eddie Freeman, Chief Executive
Address: EastPort UK House, South Beach Parade, Great Yarmouth,, Norfolk, NR30 3GY
Telephone no: 01493 335500
E-mail: jhardy@eastportuk.co.uk (Jill Hardy)
Website: www.eastportuk.co.uk

About Great Yarmouth
Great Yarmouth has had a harbour since the time of Edward the Confessor. Various improvements were made during the Middle Ages and during his visit in 1724, Daniel Defoe claimed that the South Quay was "the finest quay in England, if not Europe".
At the turn of the 20th Century the port was at the centre of the greatest herring fishery in the world, with over 1,000 vessels landing more than 120,000 tonnes of fish.
When the fishing industry declined, Great Yarmouth gained a new lease of life as a major base for the offshore exploration for oil and gas. The port continues to support this sector and is the UK's number one offshore support port to the Southern North Sea.
January 2010 saw the completion of a new deep water outer harbour at Great Yarmouth. With 1000m of developed quay, 10m water depth and approximately 40 hectares of reclaimed land, EastPort UK, as the port now trades, has significantly increased its offering.
The new outer harbour is a modern multipurpose facility supplementing the existing river port and has been designed to facilitate a wide range of vessels including the latest generation of offshore support vessels, freight ferries, self-discharges and trade car carriers. PSA International will be operating the PSA Great Yarmouth container terminal and Gleadell Agriculture Limited and Stema Shipping (UK) Limited have also agreed to long term commitments to this new facility.
Geographically, the port is the closest deep water facility to the East Anglia Array offshore wind farm and as such offers wind farm developers generous quay space and ample land for manufacturing and construction. It is also the closest deep water facility to Northern Europe.
The outer harbour is dredged to 10m at Chart Datum and can accommodate vessels up to 220m LOA and 75m beam. The river, with its 36 quays covering 3,000m can accommodate vessels up to 110m LOA, 30m beam with a draught up to 6m.
---
Return to Area Map