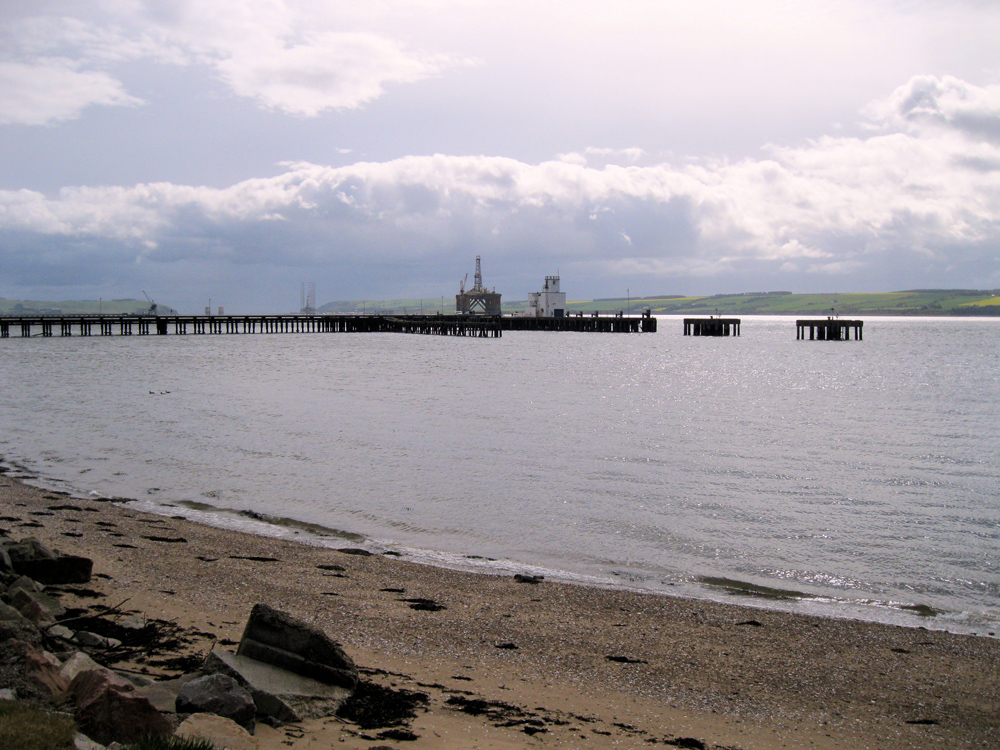 Image ©
Bob Jones
Invergordon
Latitude: 57° 41'N
Longitude: 04° 09'W
Country: Scotland
Ownership: Cromarty Firth Port Authority
Type: Trust
Usage: Commercial
Contact name: Capt Ken Gray, Harbour Master/Port Manager
Address: Port Office, Shore Road, Invergordon, Ross-shire, IV18 0HD
Telephone no: 01349 852308
E-mail: cfpa@cfpa.co.uk
Website: www.cfpa.co.uk

About Invergordon
The Cromarty Firth is easily accessible under all weather conditions with deep sheltered waters. The seaward approaches to the firth offer an uncluttered passage to large vessels and the entrance is well marked by two prominent headlands known as the North and South Sutors. The entrance channel is approximately half-a-mile wide with water depths ranging from 15.24 metres to 26.57 metres at Chart Datum. Within the Firth, water depths up to 55 metres exist.
There are many berths available within the Cromarty Firth capable of accommodating vessels up to 160,000 tonnes deadweight. Currently oil tankers, rigs and the largest cruise liners frequent the Firth.
The superb natural conditions are complimented by a wide range of facilities/services, including engineering support, cargo handling, bunkering, and storage/warehousing.
The Cromarty Firth Port Authority (CFPA) is a trust port. Trust Ports are independent statutory bodies, set up to serve regional and local interests, governed by their own unique local legislation and controlled by an independent Board for the benefit of all stakeholders. Across Scotland there are about 35 such bodies, though most of them have much narrower responsibilities then CFPA.
The specific legislation governing CFPA is the Cromarty Firth Port Authority Order Confirmation Act, dating from 1973. This makes the Port Authority responsible for overall control and management of sea-borne traffic in the Cromarty Firth and its approaches, as well as for the general conservation of the Port.
As a Trust Port, CFPA is responsible to the wider community, both immediately around the shores of the Cromarty Firth and across the Highlands, for the development of the Port as part of the infrastructure of the regional economy.
In addition, CFPA shares with the community and the specialist agencies a specific responsibility for the natural environment of the Firth, which supports a rich variety of wildlife and is surrounded by attractive landscapes.
For thousands of years the Cromarty Firth and the districts which surround it have seen human activity of varied kinds, with the sea always playing a vital role in the life of its communities.
Invergordon has been used as a port throughout history with the first proper harbour works being initiated in 1785. During the 18th and 19th centuries it was principally used to ship grain and livestock south.
The Navy has also had a presence in Invergordon going as far back as the Jacobite rising (1715 and 1745) as well as during the Napoleonic and Crimean Wars. The Ministry of Defence designated Invergordon a permanent base in 1912 until their withdrawal in 1993.
One of the finest natural harbours in the world, the firth has been a significant point in the network of communications linking Easter Ross with other parts of Scotland, Britain, Continental Europe, Scandinavia, North America and further flung parts of the world.
---
Return to Area Map