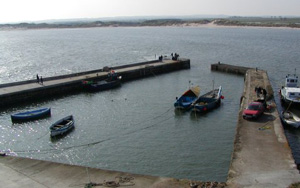 Image ©
Bob Jones
Beadnell
Latitude: 55° 33'N
Longitude: 01° 37'W
Country: England
Ownership: Beadnell Fishermen's Association
Type: Private
Usage: Fishing
Website: www.beadnell.org/harbour/index.htm

About Beadnell
Beadnell is located about two miles south of Seahouses. The harbour is on a small headland at the northern end of the bay of the same name.
Throughout its early history Beadnell was a small fishing village. The harbour was built in 1798 to facilitate the export of locally quarried limestone.
During the nineteenth herring fishing and curing became the major source of local income. Ten 50ft herring boats sailed from the harbour and there were about 60 fishermen from 15 families, all of whom were interrelated. Boats from Scotland, Ireland and Cornwall docked at the harbour; salted herring were sent to the Baltic; fishermen followed the shoals to Yarmouth. Just before World War 1, the herring fishing ended. Shoals grew scarce and the Beadnell fishermen could not afford the new methods - principally steam vessels - which were revolutionizing the industry. The huge fishing boats were sold or broken up and several families moved, whilst some concentrated on other kinds of fishing.
This small tidal harbour is private and unavailable to visitors. However in settled conditions there is an anchorage within the bay to the south of the harbour.
---
Return to Area Map