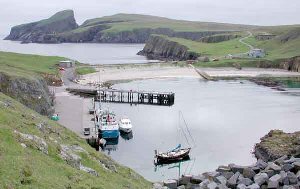 Image ©
Bob Jones
North Haven (Fair Isle)
Latitude: 59° 32'N
Longitude: 01° 36'W
Country: Scotland
Ownership: Shetland Islands Council
Type: Municipal
Usage: Fishing, Ferry Terminal
Contact name: Capt Jim Dickson, General Manager and Harbour Master
Address: Port Administration Building, Sullom Voe, Sella Ness, Shetland, ZE2 9QR
Telephone no: 01806 242551
E-mail: jim.dickson@sic.shetland.gov.uk
Website: http://content.shetland.g...irisle.htm

About North Haven (Fair Isle)
Only in the late 20th century did the island acquire a safe summer harbour, at North Haven. Despite the building of a breakwater and new pier, the exposed situation means that the ferry has to be hauled out of the water on a cradle between trips, except in very fair weather. The 2½ hour trip from Grutness, near Sumburgh, is an adventure in itself. The crossing between Fair Isle and Shetland Mainland is a very dangerous twenty four miles of fast flowing tidal water which requires to be navigated with exceptional local knowledge of the tide.
On the 24 May 1986 the specially built vessel
Good Shepherd IV
entered service. She is a small cargo ship based on the design of an 18m LOA trawler.
The older
Good Shepherd III
which this vessel replaced and which had been taken over by the council was renamed Koada and was used principally on the Papa Stour service until her replacement in April 2004 by the newly refitted Filla, now renamed the Snolda.
---
Return to Area Map