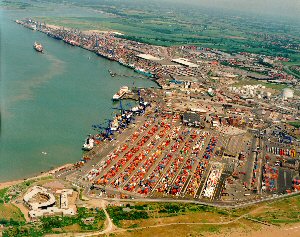 Image ©
Port of Felixstowe
Felixstowe
Latitude: 51° 57'N
Longitude: 01° 20'E
Country: England
Ownership: Port of Felixstowe Ltd
Type: Private
Usage: Commercial
Contact name: Paul Davey
Address: Tomline House, The Dock, Felixstowe, IP11 3SY
Telephone no: 01394 604987
E-mail: enquiries@fdrc.co.uk
Website: www.portoffelixstowe.co.uk

About Felixstowe
Felixstowe is one of the UK's main ports. It has had numerous investments over the years, and has increasingly had to cope with public antipathy to further expansions.
The Port of Felixstowe entered the container trade in 1967. In response to the needs of the vessels serving that trade, the approach channel to the Port was deepened to 7.3 metres below Chart Datum (CD) being normally the level of the Lowest Astronomical Tide. This principally involved dredging within the harbour. Further deepening took place in 1981 in response to the expansion of Felixstowe during the early seventies and progressive increases in ship sizes.
Port of Felixstowe (PFL) is the largest container port in the UK and one of the largest in Europe. PFL is a member of the Hutchison Port Holdings (HPH) Group, a wholly-owned subsidiary of the multinational conglomerate Hutchison Whampoa Limited (HWL).
The main navigation channel and the berths have depths which are maintained to ensure minimal tidal influence on the wide range of vessels that call. With 14.5 metres below chart datum in the navigation channel and up to 15 metres alongside the quay, Felixstowe boasts deep water suitable to accommodate the worlds' latest generation of deep-draughted vessels.
2003 saw the construction of a further 270 metre deep-water berth at Trinity Terminal, with a continuous quay of 2.6km with 24 ship-to-shore gantry cranes in operation. This expansion programme has further enhanced Felixstowe's position as one of the world's leading container ports.
---
Return to Area Map