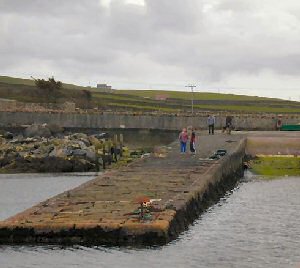 Image ©
Sandwick Junior High School
Sandsayre
Latitude: 60° 00'N
Longitude: 01° 13'W
Country: Scotland
Ownership: Sandsayre Pier Trust
Type: Private
Usage: Leisure, Fishing, Ferry Terminal
Contact name: Tom Jamieson
Address: Pytaslee, Leebitton, Sandwick, Shetland, ZE2 9HP
Telephone no: 01950 431367
E-mail: info@mousaboattrips.co.uk
Website: www.sandsayrepiertrust.com/index.html

About Sandsayre
The pier is believed to have been built in the 1850s, although no exact completion date is known. Plans prepared and signed by D&T Stephenson are dated 1854.
Sandsayre Pier is located at the village of Leebitton, on the south of mainland Shetland. It is the departure point for the trip to the island of Mousa, 15 minutes to the east of the mainland. The
M/B Solan IV
sails from Leebitton to Mousa on most days from mid April - mid September.
Sandwick Boating and Swimming Club use the pier throughout the summer months as a base for their activities which include Mirror dinghy racing.
The Shetland Sub-Aqua Club uses the pier when diving around the island of Mousa, most notably on the wrecks of the SS St Suniva (1932) and the MV Murrayfield (1944).
Many local fishermen use the pier to access the fishing grounds off the island of Mousa. A shellfish boat also works out of Sandsayre during the summer months.
---
Return to Area Map