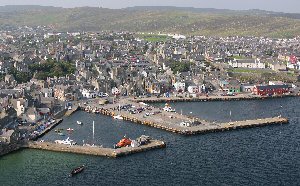 Image ©
Lerwick Port Authority
Lerwick
Latitude: 60° 09'N
Longitude: 01° 08'W
Country: Scotland
Ownership: Lerwick Port Authority
Type: Trust
Usage: Leisure, Fishing, Commercial
Contact name: Capt. Archer Kemp, Harbourmaster
Address: Albert Building, Lerwick, Shetland, ZE1 0LL
Telephone no: 01595 692991
E-mail: hmaster@lerwick-harbour.co.uk
Website: www.lerwick-harbour.co.uk/

About Lerwick
Lerwick harbour is a natural harbour sheltered to the east by the island of Bressay. Lerwick was largely developed in the early 17th Century as a fishing base by the Dutch. Now the capital of the Shetland Islands and the northernmost town of the British Isles.
Lerwick grew during the 18th and 19th century as a centre of the herring and cod fishing industries and Arctic whaling. Trading took place in fish, oil, hides, meat and woollen goods. During the 1960s the tradition industries of fishing and knitwear were revitalised. The discovery of North Sea oil brought additional industrial development.
Moorings for leisure craft are available.
---
Return to Area Map