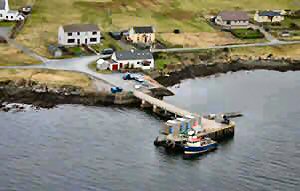 Image ©
Shetland Islands Council
Walls
Latitude: 60° 13'N
Longitude: 01° 34'W
Country: Scotland
Ownership: Shetland Islands Council
Type: Municipal
Usage: Leisure, Fishing, Commercial, Ferry Terminal
Contact name: Capt Jim Dickson, General Manager and Harbour Master
Address: Port Administration Building, Sullom Voe, Sella Ness, Shetland, ZE2 9QR
Telephone no: 01806 242551
E-mail: jim.dickson@sic.shetland.gov.uk
Website: www.shetland.gov.uk/ports.../walls.asp

About Walls
A ferry service runs from Walls pier on the west coast of the mainland to the pier at Ham Voe on the small island of Foula. An occasional ferry also runs to Scalloway.
Walls has a 30 berth marina and a boating club. Fishing is limited to a few small inshore boats.
In recent years acquaculture has been developed with anumber of salmon farms located in nearby voes. Mussel farming has also been established on a number of sites.
Walls, although a small crofting village, is the largest settlement in the area known as 'Wastlands' and acts as a small service centre for the largely scattered rural community.
---
Return to Area Map