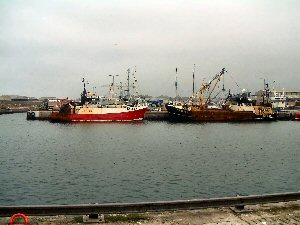 Image ©
Bob Jones
Buckie
Latitude: 57° 40'N
Longitude: 02° 57'W
Country: Scotland
Ownership: Moray Council
Type: Municipal
Usage: Fishing, Commercial
Contact name: Capt William Mackay, Harbour Master
Address: Harbour Office, Buckie, Banffshire
Telephone no: 01542 831700
E-mail: keith.stratton@edp.moray.gov.uk
Website: www.moray.gov.uk/moray_se...41111.html

About Buckie
Buckie is a historic fishing town on the coast of the Moray Firth. It extends along three miles of coastline. It is made up of several communities, from Buckpool or Nether Buckie in the west through Easter Buckie to Ianstown and Portessie in the East. The earliest known reference to Buckie is believed to have been as long ago as 1362. There was a fishery settlement in Buckie from the middle of the seventeenth century, and by the end of the next century there were 14 boats and a yawl fishing from the village. The Moray Firth Coast Railway, a part of the Great North of Scotland Railway, opened for passengers on 1st May, 1866, and linked Buckie by rail to Elgin and the North, Aberdeen and the South. The railway closed at Buckie in 1968 which left Keith with the only Railway Station in Banffshire.
The first harbour was built in 1843 and extended in 1852 to include a harbour of refuge. Boat and ship building was carried out from the end of the eighteenth century. In 1842 Buckie was a busy port with 117 large and 28 small fishing vessels. It went from being a small port to become the major fishing port of the Moray Firth and by 1913 was to have the largest steam drifter fleet in Scotland. In 1874 work began on the construction of the Cluny Harbour; this, the present harbour, occupied a site of 9 acres. Work was completed in 1880. In 1909 ownership of the harbour passed to Buckie Town Council. In recent times ownership has transferred to the Moray Council.
Buckie harbour nowadays consists of four basins which can accommodate vessels up to 80m in length and 4.2m draught at M.L.W.S. tides. It is very much a working fishing port and a walk down by the harbour will be punctuated by the sights and sounds of repair work being done on numerous trawlers.
---
Return to Area Map