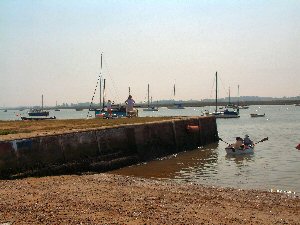 Image ©
Bob Jones
Ramsholt
Latitude: 52° 01'N
Longitude: 01° 22'E
Country: England
Type: Private
Usage: Leisure
Contact name: George Collins, Harbour Master
Telephone no: 01394 384318

About Ramsholt
Ramsholt was once a flourishing village, being the first landing on the north side of the River Deben after Bawdsey. The river was an important route for the area, carrying a wide variety of goods to and from the barge quays scattered along the banks. Sailing barges brought coal and general supplies along the river and took away local cargoes such as sugar beet, copralite (fossilized dinosaur dung used for fertilizer) and locally produced bricks, to be shipped all over the country.
A ferry ran for hundreds of years and within living memory ran to Kirton Creek. The present day Ramsholt Arms was originally known as Ferry House.
Today the river has become a great attraction for sailors and one of the major sailing centres on the east coast; the moorings at Ramsholt support over 200 craft and navigation is possible up to the Wilford Bridge, above Woodbridge. The river therefore provides an ideal place to explore, take a pleasure cruise in order to view the sights from the water or to study the wildlife.
Ramsholt is not much is not much more than a bend in the river, and nowadays there are more boats than houses. The boats in the middle of the river have substantial moorings and any boat upto 40' or more should be happy on one of them. The harbourmaster will be happy to advise on free moorings.
There is a good slip at Ramsholt; it goes right to the bottom, except perhaps at LW springs. There are chains along the side to tie your dinghy to.
---
Return to Area Map