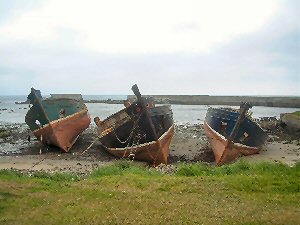 Image ©
Bob Jones
Sandhaven
Latitude: 57° 41'N
Longitude: 02° 02'W
Country: Scotland
Ownership: Sandhaven and Pittulie Harbour Trust Ltd
Type: Private
Usage: Leisure, Fishing
Contact name: Mr Robbie Smith, Chairman
Address: 44 Pitullie, Sandhaven, Fraserburgh, AB43 7EU
E-mail: info@sandhavenharbour.org.uk
Website: www.sandhavenharbour.org.uk/index.html

About Sandhaven
Immediately to the west of Fraserburgh lie the twin villages of Sandhaven and Pittulie. In 1835 the fishermen of Pitullie realised that they needed much better harbour facilities and petitioned the Commissioners of the Herring Fishery in Edinburgh for permission to construct a new harbour at nearby Sandhaven. Approval was received and a 14 acre harbour built at a cost of £4000. By 1856 there were 46 boats fishing out of Sandhaven and the harbour had become a resounding success.
Sandhaven became one of the best harbours on the Moray Firth, attracting craft from Buckie, Portsoy, Cullen, Inverness and Wick and became one of the principal ports on the North East coast, soon claiming over a hundred herring boats fishing from its port.
The Great War of 1914 - 1918 accelerated a process that had already started - a decline in the herring fishery, and the construction of larger steam-powered vessels. Tidal ports like Sandhaven had a disadvantage and neighbouring ports adapted and developed quicker. Fishermen were attracted to work from more accessible harbours as Fraserburgh and Peterhead.
A few creel fishing boats still sail daily from Sandhaven harbour although the walls in some places have been breached. Although the harbour has declined the new century has meant a new lease of life for Sandhaven Harbour and its local community, with many planned improvements under the auspices of the Sandhaven and Pitullie Harbour Trust.
The harbour was bought in recent years by a group of local people, who intend to turn it back to full use. They formed a trust in 1999 to manage the development of the harbour and hold annual 'Harbour Fun Days', which involve many in the local community.
---
Return to Area Map