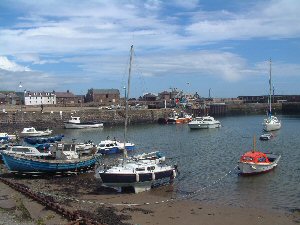 Image ©
Bob Jones
Stonehaven
Latitude: 56° 57'N
Longitude: 02° 11'W
Country: Scotland
Ownership: Aberdeenshire Council
Type: Municipal
Usage: Leisure, Fishing
Contact name: Mr James Brown, part-time Harbourmaster
Address: Harbour Office, Old Pier, Stonehaven, AB39 2LU
Telephone no: 01569 762741
Website: www.aberdeenshire.gov.uk/...ehaven.asp

About Stonehaven
Stonehaven Harbour was first built prior to 1607 but was destroyed by storms. It was repaired and again destroyed by storms. In 1678 it was built more robustly but this too broke up under the force of the North Sea. A new plan was drawn up in 1825 by Robert Stevenson and the Harbour works were constructed successfully.
The main breakwater was not built until 1908, by which time the boom years of the herring fisheries had past. With the exception of the later quarter of the 19th century (Stonehaven had up to 80 boats at this time) Stonehaven has never rivalled the other North East ports. The vessels numbers then gradually declined, with 64 in 1889 then only 19 in 1909.
With this decline in both herring and whitefish the young men had mostly given up fishing for their livelihood. Excepting for brief periods of increased activity at the end both the 1914 - 1918 and 1939-1949 wars, fishing has continued to decline to only a few boats.
The Harbour was handed over to Stonehaven Town Council in 1962 and subsequently to Grampian, then Aberdeenshire Council.
This is the largest of the recreational harbours in Aberdeenshire and has three basins extending to 18,200 square metres and 550 metres of berthing space on the quays. There are also additional mooring chains in the inner harbour. There are almost 140 regular moorings fully occupied and a waiting list for vacancies. There is no longer a Fish Market at Stonehaven and it is now more of a recreational harbour but it is still used by several fishing boats in the 50-foot class. Services available include water and power points on the quays, a concrete slipway and a 1.5 tonne crane on the fish jetty. Under certain storm conditions only the inner basin is suitable for berthing and priority is given to local fishing boats. There are over 50 berths in the inner basin and it can be protected by a heavy steel boom.
Both inner and outer basins dry out at low water but the cofferdam basin, an open area protected by the breakwater, has a depth of three to four feet (1 metre) at MLWS.
---
Return to Area Map