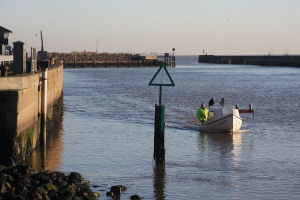 Image ©
Bob Jones
Southwold
Latitude: 52° 19'N
Longitude: 01° 41'E
Country: England
Ownership: Southwold Harbour Authority (Waveney District Council)
Type: Municipal
Usage: Leisure, Fishing
Contact name: Colin Carr
Address: Harbourmaster's Office, Blackshore, Southwold, IP18 6TA
Telephone no: 01502 724712
E-mail: colin.carr@waveney.gov.uk
Website: http://southwoldharbour.c.../south.htm

About Southwold
Southwold harbour lies to the south west of the town beyond Gun Hill and South Green. It was once a very busy fishing port and it was actually recorded in the Domesday Book that Southwold was a most prosperous fishing port in the 11th century, herring being the main catch. It is still a bustling place and the sale of freshly caught fish still attracts many to the harbour.
Operating from the harbour is a small ferry service to Walberswick, and during the season there are river trips. The local Council operates the port under the guise of the Southwold Harbour Authority.
Following the road past the Sailing Club and Harbour Master's office is the visitors quay, for those who have made their way to Southwold by sea; most of the crews are normally to be found in the Harbour Inn. This historic pub has been recently overhauled with new toilets and cellar as well as incorporating the nearby rundown net sheds which have been converted into a restaurant with fine views over the river and marshes.
All visiting vessels should contact the Harbour Master (VHF Ch 12 or telephone, 0900 - 1600 winter, 0800 - 2000 summer) for the latest entry information and berthing instructions/reservations.
Harbour Marine Services
are the local boatbuilders and chandlery.
---
Return to Area Map