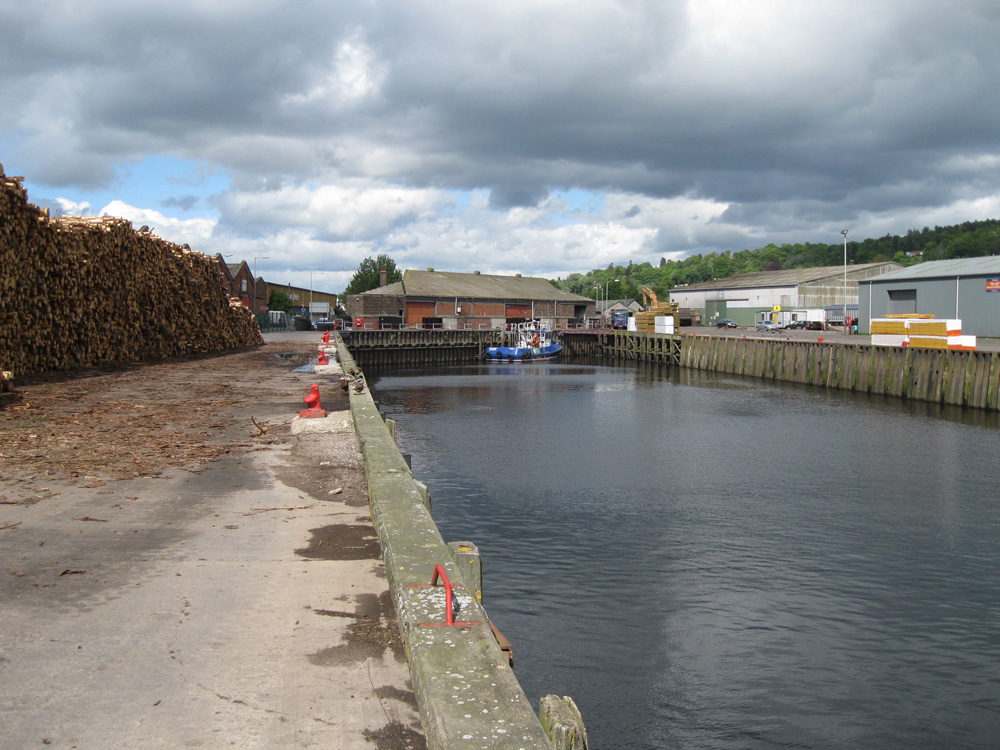 Image ©
Bob Jones
Perth
Latitude: 56° 23'N
Longitude: 03° 26'W
Country: Scotland
Ownership: Perth and Kinross Council
Type: Municipal
Usage: Commercial
Contact name: Capt Nick Horner, Harbour Master
Address: Perth Harbour Office, Friarton Road, Perth, PH2 8BB
Telephone no: 01738 624056
E-mail: harbour@pkc.gov.uk
Website: www.pkc.gov.uk/Planning+a...arbour.htm

About Perth
Perth is strategically located at the highest navigable point of the River Tay. In medieval times, cargoes were brought into the heart of the town, but nowadays the harbour is based at Frairton, about a mile downriver, in much deeper water.
In the medieval period Perth's main overseas trade was with northern Europe and the Baltic. Exports included hides, leather goods, wool, salmon, coal and salt, whilst imports included flax and linseed for the growing textile industry, wood and resin, iron, and wine.
In the 18th and 19th centuries, shipbuilding was a significant part of Perth's economy. Timber was floated down river from north Perthshire to the many small shipyards on the banks of the Tay. Amongst the vessels launched at Perth were sloops, smacks, brigantines and schooners. Construction was not confined to small sailing ships. The steamship 'Union', the first twin-hulled ship in Britain, was built by Brown of Perth in 1821, and an iron steamship, the 'Eagle', was built by Perth Foundry in 1836. The largest ship ever built in Perth was the 'Mary Grey', displacing 446 tons. She was launched in 1840, but wrecked off the Lofoten Islands only 17 years later.
Perth attempted to establish links with North America, but could never compete with the west coast ports. The Tay was too shallow for big ships, and growing competition from the railways reduced the importance of coastal and river craft. It was not until the 1950s that ships began to return to Perth in any numbers. The introduction of the diesel engine allowed the construction of ships with a shallow draft that could navigate the river channels to the port at Friarton. The present harbour, like its predecessors, carries on a busy trade with Scandinavia, the Low Countries and the east coast.
Coastal and dry bulk ships up to 90 metres in length can be accepted into Perth Harbour, day or night, carrying up to 2500 tonnes from Europe, the Baltic or Scandinavia. Because of the efficiencies of scale at Perth, vessels can be received on one high tide and depart on the next, ensuring maximum efficiency.
Cargoes that pass through Perth Harbour now range from traditional agricultural related cargoes such as animal feedstuffs and fertilisers to timber, chemicals and baryte ore.
---
Return to Area Map