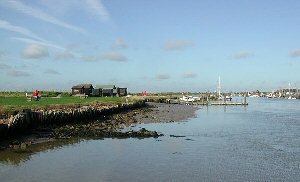 Image ©
Bob Jones
Walberswick
Latitude: 52° 17'N
Longitude: 01° 39'E
Country: England
Ownership: Southwold Harbour Authority (Waveney Distict Council)
Type: Municipal
Usage: Leisure, Fishing
Contact name: Colin Carr
Address: Harbourmaster's Office, Blackshore, Southwold, IP18 6TA
Telephone no: 01502 724712
Website: www.waveney.gov.uk/servic...arbour.htm

About Walberswick
The name Walberswick is believed to derive from the Saxon Waldbert or Walhbert - probably a landowner - and "wyc", meaning shelter or harbour. At a point in the 15th and 16th centuries there were a series of ports dotted along the east coast, bringing in great harvests of fish. There was also a brisk trade in timber, butter, cheese and bacon from mainland Europe and Iceland and thanks to tax-free trading Walberswick became a wealthy village dominated by its churches.
Once a thriving port trading in cheese, bacon, corn, timber and fish from the 13th century right up to World War 1, the village is now a bustling tourist attraction in the summer months and almost half the properties are holiday homes.
Every year during the summer the British Crabbing Championships are held here, when hundreds of children line the riverbanks and compete to catch the largest crabs, whilst also raising money for charity.
There is a rowing-boat foot ferry available to and from Southwold.
The harbour comes under the management of the Southwold Harbour Authority.
---
Return to Area Map