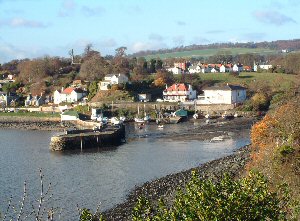 Image ©
Bob Jones
Aberdour
Latitude: 56° 03'N
Longitude: 03° 17'W
Country: Scotland
Ownership: Fife Council
Type: Municipal
Usage: Leisure, Fishing
Contact name: Mr Dick Drummond, Harbour Master
Address: Harbour, Aberdour, Burntisland, KY3 0RY
Telephone no: 01383 860859
Website: www.fife.gov.uk/atoz/inde...354A6A0CA0

About Aberdour
The natural harbour formed by the Dour Burn estuary and Hawkcraig Point gave Aberdour its start in life, but it was the nearby coal which sustained it. Although bad roads limited local commerce, the village long traded with the continent. When the village outgrew the harbour in the 1700s the stone pier was built to allow access for larger vessels, and this was later extended.
In the late 1800s trading on the river was largely superseded by the railway. When Aberdour station opened in 1890, commercial use of the harbour stopped. In Victorian times Aberdour was a popular destination for day trippers coming from Edinburgh on paddle steamers. During the First World War the nearby jetty at Hawkcraig Point was used as a Royal Navy Base for developing and testing underwater acoustic detection equipment. This jetty is now derelict. During both World Wars the British Naval Fleet stationed in the Firth of Forth was serviced and maintained in Aberdour.
The old stone pier remains a great attraction for leisure boats of all kinds, for walkers, artists and not least for socialising on a warm summer evening.
There are no landing fees, but an overnight charge of £7.00 is payable to the Harbour Master. Though owned by Fife Council, the pier is controlled by the Aberdour Pier and Harbour Committee, a sub-committee of the Aberdour Residents Association.
---
Return to Area Map