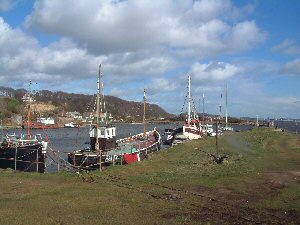 Image ©
Bob Jones
Charlestown (Fife)
Latitude: 56° 02'N
Longitude: 03° 30'W
Country: Scotland
Type: Private
Usage: Leisure, Fishing

About Charlestown (Fife)
In 1750 Charles, the 5th Earl of Elgin, decided to build a village on this coastal spot in Fife, planned round the extensive lime supplies, and to name it after himself. There was an enormous limestone crag along the north bank of the shore providing easy extraction. (Charles did not see his plan to fruition but it was carried out by Thomas, the 7th Earl, of the Elgin Marbles fame.)
Eventually a planned village of 200 houses was built for his workers, one that rivals New Lanark in Scotland's industrial awakening from the middle part of the 18th century, as well as a harbour and six lime kilns, which later extensions increased to nine, and this magnificent structure is still more or less intact today.
As the Lime Industry declined, other uses were sought for the harbour facilities, and shortly after the First World War the Alloa Shipbreaking Company (later the conglomerate Metal Industries Ltd.)found a home here, having been rejected by their proposed home at Alloa. The small enclosed tidal harbour has been a deathbed for a goodly number of warships from both the German and British Navies.
Among the first vessels broken up here were the German naval fleet scuttled at Scapa Flow, raised by divers, and towed here 'belly-up'. Perhaps the most famous was the ocean liner the 'Mauretania', and the last, in 1963, a submarine 'The Scorcher' from the nearby Naval dockyard at Rosyth.
Nowadays the harbour, which dries out at low tide, is used mainly by leisure craft.
---
Return to Area Map