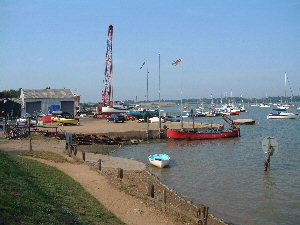 Image ©
Bob Jones
Woodbridge
Latitude: 52° 04'N
Longitude: 01° 19'E
Country: England
Type: Private
Usage: Leisure
Address: Tide Mill Yacht Harbour Ltd, Woodbridge, IP12 1BP
Telephone no: 01394 385745
E-mail: richard@tidemillyachtharbour.co.uk
Website: www.tidemillyachtharbour.co.uk

About Woodbridge
In the 16th century the shipbuilding and timber trades had become so lucrative that the already existing port was enlarged and a customs house was established. Later, in the 17th century, following the execution of Charles II the town was granted many shipping contracts due to some "family influence". In 1656 the
Advice
, a warship built at Woodbridge, took part in the victory over the Dutch at the battle of Sole Bay, off Southwold.
Smuggling was rife in the 18th century; in 1735 two hundredweight of tea were seized from smugglers near Kesgrave and in 1784 an hour-long battle took place between excise officers and spirits smugglers.
Today, the activities at Woodbridge are restricted to leisure, with the
Yacht Harbour
housing a great many craft of varying sizes.
Robertson's Boatyard
and the
Granary Yacht Harbour
also offer a wide range of facilities for the yachting fraternity.
The famous
tide mill
is certainly worth a visit.
---
Return to Area Map