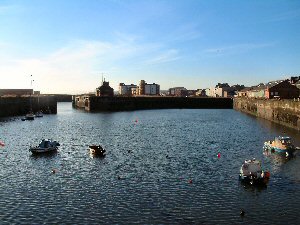 Image ©
Bob Jones
Kirkcaldy
Latitude: 56° 06'N
Longitude: 03° 09'W
Country: Scotland
Ownership: Forth Ports plc
Type: Private
Usage: Leisure
Telephone no: 01592 260176

About Kirkcaldy
Kirkcaldy was an important harbour in the 17th century. In 1650 Cromwell launched a fierce attack killing 500 townsfolk and destroying the 50 ships berthed in the harbour. In 1834 it was recorded that Kirkdaldy had a fleet of 186 ships.
More recently, the docks served the town's linoleum industry. Kirkcaldy is famous throughout the world for the manufacture of linoleum. It was the Nairn family who first made linoleum; Michael Nairn built the first factory which made a product called floorcloth. Linoleum came later, manufactured from flax and linseed oil, which items were unloaded from ships which came into Kirkcaldy Harbour.
After many centuries, commercial trading activities at the port of Kirkcaldy ceased in the late '80s and the harbour was destined to be turned into a marina. However, it was announced by owners Forth Ports Plc in March 2011 that it is to re-open to cargo vessels after more than twenty years out of use. Hutchison Flour Mill has undergone a reconstruction to allow delivery of wheat direct from ships. The first cargoes were expected in the summer of 2011.
---
Return to Area Map