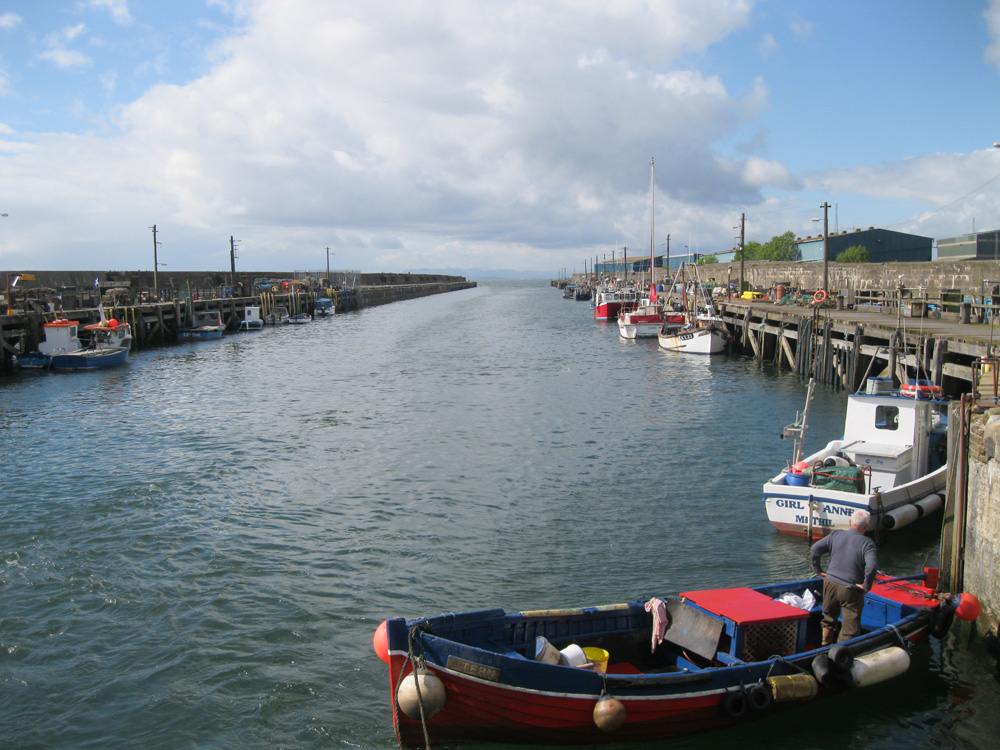 Image ©
Bob Jones
Methil
Latitude: 56° 11'N
Longitude: 02° 59'W
Country: Scotland
Ownership: Forth Ports plc
Type: Private
Usage: Fishing, Commercial
Contact name: Captain Graham Vale, Port Superintendent
Address: Dock Office, Methil, Fife, KY9 4EG
Telephone no: 01333 426725

About Methil
A stone harbour, provided by David, the second Earl of Wemyss in 1664 to export coal and salt, replaced an earlier wooden pier. The port was linked to coal mines, principally the so-called 'Happy Mine' in the valley of the Den Burn at present-day Denbeath. In 1785, a wagonway was built along the line of the present day Methil Brae to convey coal from the collieries at Kirkland to Methil harbour. But by the middle of the 19th century local coal mining activity had been adversely affected by flooding and salt making had ceased, causing Methil to be described as the 'shrivelled up skeleton of a once important place'.
Not long afterwards, however, coal mining was resumed on a large scale with the opening of pits at Muiredge (1864) and Kinnarchie Brae (1877) and, for the next hundred years Methil was essentially a mining town and coal port.
The first dock at Methil (the present Number 1 Dock) was opened in May 1887. The project was financed by Randolph Wemyss, the local laird, and in 1889 ownership was passed to the North British Railway Company. Number 2 Dock, on the site of the tidal harbour, was completed in 1900, followed by the much larger Number 3 Dock by the engineers Blyth and Westland in 1913. The latter in particular, with its entrance channel and sea wall along the front of the previous docks, was a massive engineering undertaking intended to accommodate at least eight hydraulic coal hoists of which only six were ever constructed.
After the First World War Methil became Scotland's chief coal port, exporting over 3,000,000 tons annually by 1923. Between 1935 and 1939 an average of 220 coal trimmers were employed at the docks, although numbers never reached this level again after World War II. During the 1960s trade through the docks was badly hit through the closure of all the nearby collieries, including the Wellesley in 1967 and the Lochhead pit at Coaltown of Wemyss in 1970.
No. 3 Dock was closed by the Forth Ports Authority in 1977 and coal exports were diverted to Leith, much to the consternation of local people. Shortly afterwards, the three 'arms' of the dock were filled in and the railway 'levels' were cleared away, allegedly to accommodate a prestigious new housing and marina development which has in fact never seen the light of day.
Nowadays the port, which has two working docks able to take vessels up to 3,000 dwt, specialises as a woodpulp and timber distribution centre. These two commodities provide most of its traffic, totalling almost 150,000 tonnes a year. The port also handles fertiliser imports, road salt in winter for Fife Council and stone and coal exports.
A fleet of small fishing boats is moored in the entrance channel, on the seaward side of the lock, as shown in the photo above.
---
Return to Area Map