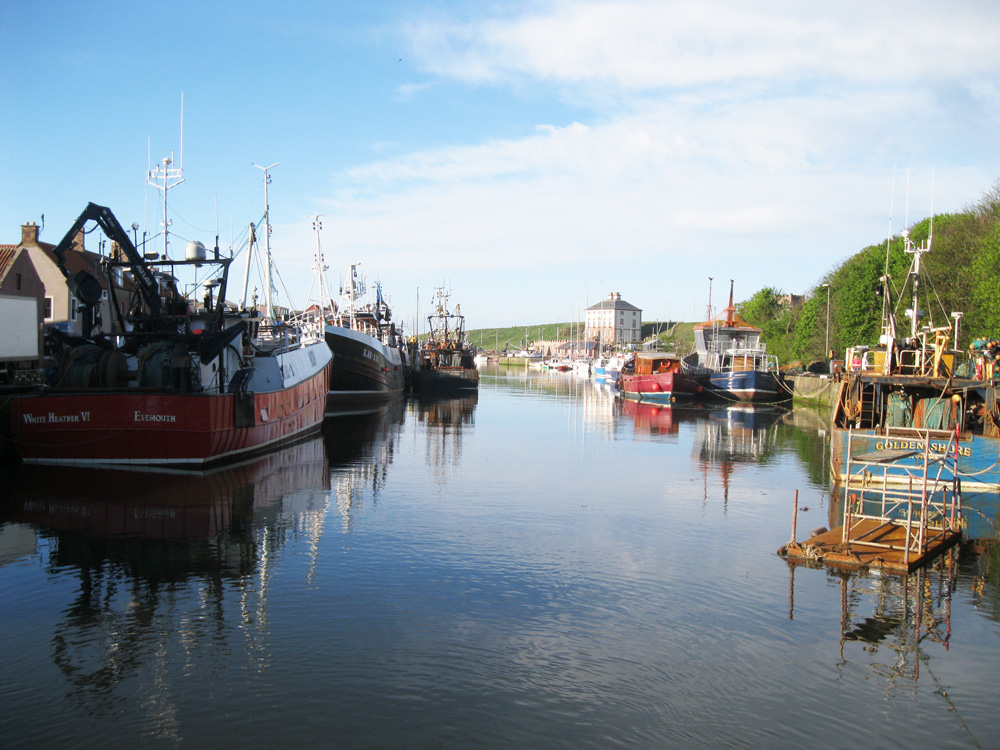 Image ©
Bob Jones
Eyemouth
Latitude: 55° 52'N
Longitude: 02° 04'W
Country: Scotland
Ownership: Eyemouth Harbour Trust
Type: Trust
Usage: Fishing
Address: Harbourmaster Office, Gungreen Basin, Eyemouth, TD14 5SD
Telephone no: 01890 750223
E-mail: eyemouth@msn.com
Website: www.eyemouthharbour.org/

About Eyemouth
Eyemouth harbour was built in 1770 in the picturesque fishing town lying 5 miles north of the border where the mouth of the river Eye provides a natural harbour and sandy beaches. It is situated among red sandstone cliffs on the East Coast of Scotland.
By the mid 19th century, Eyemouth had become one of the most important East Coast fishing ports. However, the lack of a safe harbour had long been a cause of great concern. The Great Storm of 14 October 1881, which took the lives of 129 Eyemouth fishermen, highlighted the problem.
In 1881 Eyemouth Harbour Trust put together a report, pleading a case for a new harbour of refuse. Their aim was to persuade the Public Works Loan Commissioners to fund a new safe harbour. The Trust was successful; a loan of £25,000 enabled a new harbour to be started in 1884.
Nowadays, Eyemouth provides an important landing place for boats and vessels from Berwickshire, Lothian & Northumbria. Eyemouth bay has dramatically improved over the years and its wondrous views attract thousands of tourists each year. The bay is virtually the only safe landing place in Berwickshire.
Fishing in Eyemouth has been a daily occurrence since the 13th century when monks in Coldingham Priory obtained rights to sea fishing. In the 18th century the place was a major centre for smuggling and massive amounts of brandy, gin, tobacco, tea and even luxury items like spectacles were landed illegally in the village.
---
Return to Area Map