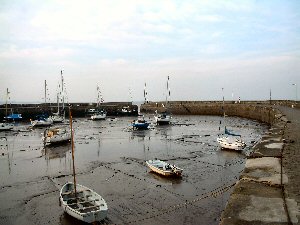 Image ©
Bob Jones
Fisherrow
Latitude: 55° 56'N
Longitude: 03° 04'W
Country: Scotland
Ownership: East Lothian Council
Type: Municipal
Usage: Leisure, Fishing
Contact name: Harbour Master
Telephone no: 0131 665 0476 / 07776 467446

About Fisherrow
Today Fisherrow Harbour is a haven for pleasure boats, along with Sea Cadets training craft. Like many of the other small harbours on the First of Forth Fisherrow declined quickly with the dwindling of the herring stocks and white fish in the coastal waters off the Lothians and Fife in the 1930s. The development of large ocean trawlers has hastened the decline since the 1950s.
Fisherrow was the landing place for many fleets from Dunbar to Fife. The catches were taken to nearby Edinburgh for sale by the Fisherrow fishwives. In 1791 there were seven home fishing boats and 49 fishermen. By 1839 the fleet had risen to 28 boats averaging 18 to 22 tons and 140 fishermen.
This harbour is known to have been in existence in 1592, though at that time it was probably only a landing stage for fishing boats and small coastal craft. By 1626 it had one wooden pier. In his 1650 campaign in Scotland Cromwell searched for a port in the Forth for his supply ships. He rejected Fisherrow as being too shallow and decided instead in favour of Dunbar.
Throughout the 17th and 18th centuries the harbour was regarded as being unsuitable for foreign trade. As such it escaped having its own customs post and the unwanted attention of the excisemen. Nevertheless its fishing income was augmented by the occasional export of salt and coal, the import of Norwegian timber, a thriving trade with the Holland and undoubtedly a fair amount of smuggling.
In the early 19th century Musselburgh Town Council built a new harbour in the mouth of the River Esk, but this was soon abandoned because of silting. Fisherrow harbour was then improved in stages, and the present west pier was built in stone in about 1850.
Fishing carried on at Fisherrow until the late 1950s, but the remaining fishwives then carried on their work from Newhaven, just west of Leith and Granton. The last working fishwife was Betty Millar who died in 2000.
---
Return to Area Map