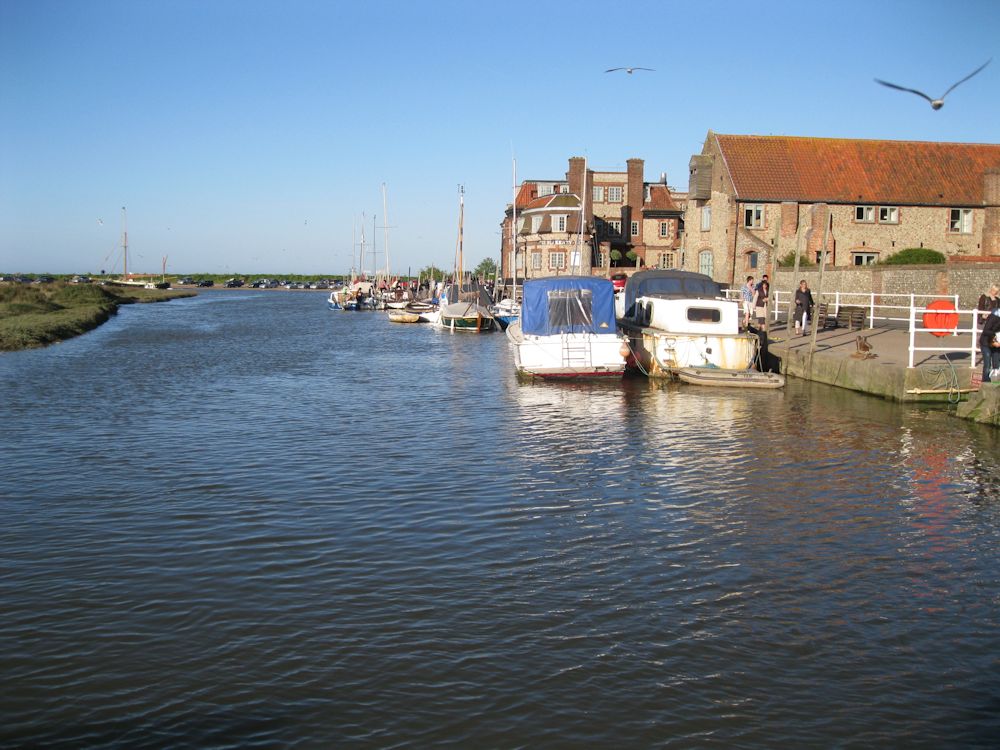 Image ©
Bob Jones
Blakeney
Latitude: 52° 57'N
Longitude: 01° 01'E
Country: England
Type: Private
Usage: Leisure, Fishing
Contact name: Blakeney Harbour Boatman's Association
Telephone no: 01263 740222

About Blakeney
Blakeney Harbour is an extensive natural harbour protected by an expanding shingle spit and the dunes on the point. It is also a drying harbour which means harbour users are totally dependant on the tides which change daily in terms of height and time.
The village of Blakeney is recorded in King William's Domesday Book (1086 AD). The village was then known as Esnuterle, and the later as Snitterly. The name Blakeney is first recorded in 1340.
At the beginning of the 14th century, a friary was established at Blakeney. The church and friary were built by the White Friars of the Carmelite order. They also built a chapel by the quayside to bless the fishing boats.
A local fish merchant, Peter de Meauton, was granted a charter for a market in 1222, and a 'great fair' at Blakeney was record in 1358. Blakeney was clearly an important centre for fishing and for trade by the sea. Ships made an annual voyage to Iceland. It also became a port with a North Sea trade based on the export of cereals, especially barley and malt, and the import of coal, timber, iron, roofing tiles and a great variety of other goods. There is also evidence for boat building in the village.
Three important Admirals came from the Blakeney area in the 17th century, Sir John Narborough, Sir Christopher Myngs and Sir Cloudesley Shovell.
Blakeney was once an extremely busy port dealing in the export of mainly corn and wool and it once had a large oyster industry. Banking and draining of the surrounding land meant that bigger ships could not always enter Blakeney harbour, but it remained open as a port. Early in the nineteenth century, the Blakeney Harbour Company was established. The company drained the channel into Blakeney harbour and improved the quay, but eventually the channel began silting up again. With the coming of the railways, harbours like Blakeney ceased to be important for trade.
Today Blakeney relies on the tourist trade with the Blakeney Point National Nature Reserve, owned by the National Trust, being one of the major attractions. The picturesque harbour is now used for recreational sailing and the daily trips to the Nature Reserve (tide dependant), where many varieties of birds and a colony of common and grey seals can be seen.
---
Return to Area Map