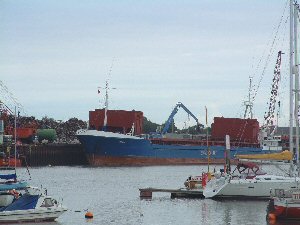 Image ©
Bob Jones
Brightlingsea
Latitude: 51° 48'N
Longitude: 01° 02'E
Country: England
Ownership: Brightlingsea Harbour Commissioners
Type: Trust
Usage: Leisure, Fishing, Commercial
Contact name: Bernie Hetherington, Harbour Master
Address: Harbour Office, 4 Copperas Road, Brightlingsea, Essex CO7 0AP
Telephone no: 01206 302200
E-mail: mail@brightlingseaharbour.org
Website: www.brightlingseaharbour.org

About Brightlingsea
The town grew as a result of its close association with the River Colne and its excellent natural harbour. The Oyster fishery was an import industry and there was a large fishing fleet of 'Colchester Smacks'. In the 1930's more sprats were landed in Brightlingsea than in all the rest of the country. Many of the fishing boats were built in the town together with many of the Thames Barges, and the Aldous yard was a major employer. So much so that many of the houses in the lower part of the town were built by Aldous for their labour force.
Commercial port operations are carried out at the privately owned Olivers Wharf (01206 302370 - Brightlingsea Port Ltd). Part of the wharf is currently being used by the Danish energy company Dong, who are developing a wind farm on the nearby Gunfleet Sands. Tugs, barges and floating sheer legs, together with support craft, operate in the Colne entrance and Brightlingsea area. A floating harbour has recently been moored off East Mersea Stone Point near the entrance to Pyefleet. Construction on the Gunfleet is due to be completed in 2010.
Most of the Harbour is given over to leisure craft. The wide slipway provides and excellent launching point. Facilities have been steadily upgraded over recent years, The harbour can now accommodate nearly 500 boats varying in size from around 14 to 40 feet. Visitors are made very welcome by the staff and can number nearly 100 boats over a weekend.
---
Return to Area Map