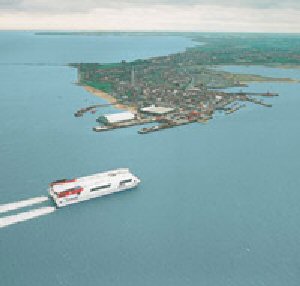 Image ©
Bob Jones
Harwich Haven
Latitude: 51° 56'N
Longitude: 01° 18'E
Country: England
Ownership: Harwich Haven Authority
Type: Trust
Usage: Leisure, Commercial
Contact name: Stephen Bracewell, Chief Executive
Address: Navigation House, Angel Gate, Harwich, CO12 3EJ
Telephone no: 01255 243030
E-mail: harbour.house@hha.co.uk
Website: www.hha.co.uk

About Harwich Haven
Harwich seems to have appeared on the scene around 1150, but it quickly became a thriving port with, evidence suggests, a certain urgency about the place. Harwich's importance as a port is a result of its location; protruding out as it does into the estuary of the rivers Orwell and Stour it commands the only safe anchorage between the Thames and the Humber.
Its historic association with the Royal Navy and ever increasing importance to the world's merchant fleets as a major European harbour make the Harwich Haven an important and vibrant part of our nation's maritime heritage.
Today more than 40 per cent of the UK's deep sea general cargo trade and a substantial share of short sea ferry and passenger traffic passes through the operating ports embraced within the Harwich Haven. This buoyant commercial activity within the Haven is an important generator of wealth and jobs, serving both national and local economies. The Harwich Haven Authority, through its responsibility for managing and improving the harbour, plays a vital role in sustaining the economic health of the area, complementing the cargo handling activities of the Haven Ports.
As Harwich Haven Authority continues in its duties of safeguarding the best natural haven on England's east coast, it works with a wide number of bodies to ensure the balance of all interests through sustainable development and protection of the environment in an outstandingly attractive area.
It has responsibility for 150 square miles of river and seaward approaches. In 2001, 12,000 vessels totalling 201 million gross tons made their way to and from the five Haven ports. There are 16 yacht clubs in the area, which has about 10,000 yacht moorings and marina berths.
---
Return to Area Map