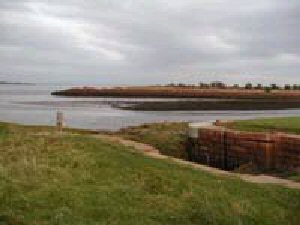 Image ©
Bob Jones
Port Carlisle
Latitude: 54° 57'N
Longitude: 03° 11'W
Country: England
About Port Carlisle
A mile from Bowness are the remains of the 19th century harbour from which Woodrow Wilson's wife originally emigrated to America. You can still see the old docking quay with its great sandstone block wall. The dock itself still has the silted up lock entrance to the basin where barges collected the grain and produce destined for Carlisle's biscuit and feed mills.
At one time sailing boats made their way by a canal from Port Carlisle (about one mile from Bowness) to the heart of the City of Carlisle. Boats were towed to the City (taking one hour 40 minutes) enabling Carlisle to be reached within a day by sea from Liverpool. The canal was later replaced by a railway, which brought many Scandinavian emigrants through Carlisle on their way to the USA. The building of the Bowness railway viaduct altered the deepwater channels, causing Port Carlisle to silt up, and the railway was abandoned, but its course can still be traced.
The canal built specially for this purpose ended in the canal basin behind the present Carrs (McVities) biscuit factory in Carlisle, 12 miles further inland. With the building of a deep water port at Silloth the port fell into disuse.
---
Return to Former Harbours Map