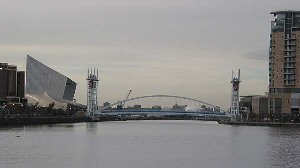 Image ©
MaccCam
Salford
Latitude: 53° 28'N
Longitude: 02° 17'W
Country: England
Website: www.macccam.co.uk/Salford...quays.html

About Salford
Queen Victoria opened the docks in 1894 when the Manchester Ship Canal was at the heartland of North West's industrial strength, pumping in wealth from trade all over the world.
By the 1970s the advent of containerisation impacted on the Manchester docklands, while industrial decline and changing patterns of trade meant that by the end of the decade the glory days were over.
The docks closed in 1982, but within a year Salford City Council purchased most of the site and expressed their commitment to its redevelopment.
Today, Salford Quays is the name by which the Terminus Docks of the Manchester Ship Canal have emerged after a considerable make-over. Salford Quays is now a major tourist attraction in addition to the offices and housing which have developed on the site. The dock cranes stand sentinel at the head of the Ontario Basin which commemorates the grain trade with Canada and the reason for the Kellogg factory nearby.
The transformation has an enormous impact. A multiplex cinema, watersports centre, restaurants, bars and smart waterside residences were the first elements of regeneration. The basins were stocked with 12,000 coarse fish, attracting anglers and other sporting activities on what were once polluted and rat-infested waterways. For those who recalled a canal filled with the detritus of industry, it was nothing short of a miracle to discover fish swimming in the cleaned and oxygenated water of the Quays. In place of an industrial ghost-land was a smart new development with an extensive network of footpaths encouraging people to enjoy the waterways.
Hundreds of people now live in Salford Quays in apartments and houses. The waterways are home to wildlife and the area trades in the leisure industry, rather than heavy industry.
---
Return to Former Harbours Map