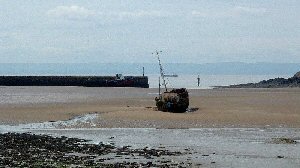 Image ©
BarryWales.co.uk
Barry Old Harbour
Latitude: 51° 23'N
Longitude: 03° 16'W
Country: Wales
About Barry Old Harbour
The site of the ancient port of Barry lay in the western end of Barry Sound, in an area now occupied by the Old Harbour. In the 16th century (and probably earlier) the portís facilities included the Ostry Tavern and a warehouse.
The Old Harbour and Watchtower Bay provide a huge expanse of golden sand at low tide. At high tide most (but not all) of the boats float. Watchtower Bay is separated from the Old Harbour by York Breakwater.
The harbour was dredged regularly until around the 1970s, but sand deposition has now covered the underlying mud. Since then, the harbour has been relatively unused. About 30 years ago there was an active water sports fraternity in the area, and most weekends in the summer the old harbour and Watchtower Bay were used by the local Sea Scouts, the Barry Rowing Club, the Rhondda Lifeguard Club, and the Barry Watersports Association.
Occasionally a vessel will put in alongside York Breakwater for a spot of painting and decoration.
There have been at least two attempts at running a cross-channel hovercraft service from the harbour. And at one point there were proposals from the council to fill it in and build houses. But to date, the old harbour remains, though seldom used.
---
Return to Former Harbours Map