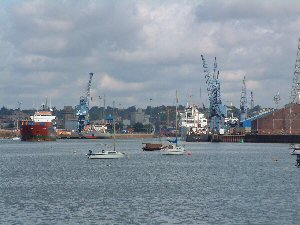 Image ©
Bob Jones
Ipswich
Latitude: 52° 02'N
Longitude: 01° 09'E
Country: England
Ownership: Associated British Ports
Type: Private
Usage: Leisure, Commercial
Contact name: Mr Alastair MacFarlane, Port Manager
Address: Old Custom House, Key Street, Ipswich, IP4 1BY
Telephone no: 01473 231010
E-mail: amacfarlane@abports.co.uk
Website: www.abports.co.uk/custinf...pswich.htm

About Ipswich
Commercial operations at Ipswich are divided between three tidal quays, Cliff Quay, Power Station Quay and the West Bank. Ihe Wet Dock is being transformed into a large marina, and commercial operations there have now ceased.
Cliff Quay and the Power Station Quay cater for a wide range of cargoes, whilst the West Bank is primarily for unit loads. It has a ramp 42.4 m long and 16 m wide, with a weight-loading capacity of 180 tonnes.
The West Bank also has two 37½-tonne cranes equipped for container handling, two 35-tonne straddle carriers and three 35.6 rubber-tyred gantries, together with a large open storage area. The Cliff Quay Container Terminal is equipped with a 40-tonne crane and two rail-mounted gantries of 35.6 tonnes, together with an extensive container storage area.
Cliff Quay has facilities for the handling and storage of both liquid and dry bulks. An area adjacent to the berth houses 89,000 cu m of petrochemical storage tanks. Both Cliff Quay and West Bank provide facilities for the handling and processing of sea-dredged aggregates.
The Port benefits from its inland location, which still retains water deep enough for vessels of 150m in length.
---
Return to Area Map